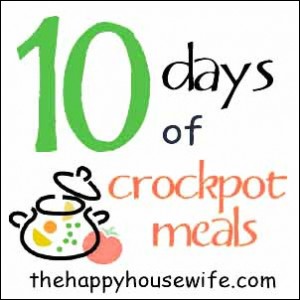 I'm very excited to be participating in the 10 Days of Homeschooling again (for me it will be 8 days due to my site issues).  This time instead of talking about frugal homeschooling, Ill be discussing crock pot cooking.
I know many people love using the crock pot and truly it is a homeschooling mom's (or any busy mom's) best friend in the kitchen.
If you aren't using your crock pot regularly you should. Here are a few reasons why.
Crock Pots don't heat up the kitchen.
During the summer months, keep your kitchen cool by using your crock pot. You can even put your crock pot outside to keep your kitchen super cool.
Crock Pots do the work for you.
To borrow a line from a cheesy infomercial, crock pots truly are set it and forget it. Put your meal in the crock pot in the morning and have a delicious dinner that evening.
Crock Pots make inexpensive meat taste great.
The slow cooking method is a great way to make tough cuts of beef fall apart after eight hours in the crock pot. Using a less expensive cut of meat will save on your grocery bill.
Crock Pots save you money.
I'm sure I'm not the only one who has had one of those days where school is finishing up around 4:45pm? Rather than spend $20 or $30 on delivery pizza, if you are using your crock pot your meal will be ready to go, not matter what time you finish school.
Over the next eight days I'll be sharing with you crock pot cooking tips, recipe ideas, and all around crock pot goodness to help you get dinner on the table in less time and for less money.
Be sure to visit these brilliant women during our 10 days adventure between November 7th-18th! I love these ladies and we know you will too.

10 days of Character Studies | Confessions of a Homeschooler
10 days of Christmas Countdown Ideas | Milk & Cookies
10 days of Creative Writing | Chocolate on My Cranium
10 Days to a Godly Marriage | Women Living Well
10 Days of Growing Leaders | Mom's Mustard Seeds
10 Days of Homeschooling High School | Weird Unsocialized Homeschoolers
10 days of I Wish I Had Known | Fruit in Season
10 days of Keeping Your Marbles | The Tie That Binds Us
10 days of Kid-friendly Food | Planner Perfect
10 Days of Language Arts Lesson Planning | Jimmie's Collage
10 Days of Learning Apps | Daze of Adventure
10 Days of a Mason Jar Christmas | Cajun Joie de Vivre
10 Days of More JESUS in Christmas | Preschoolers and Peace
10 Days to a Peaceful Home | Raising Arrows
10 Days of Raising a Life-Long-Learner | Bright Ideas Press
10 days of Science with Math | Blog, She Wrote
10 days of Teaching Values | Our Journey Westward
10 days of Winning your Child's Heart | I Take Joy