I am a HUGE fan of homemade gifts as they can be truly personalized for the recipient as well as often being a more frugal method of giving gifts.  One such homemade gift idea is the ever popular Recipes in a Jar like this eBook contains…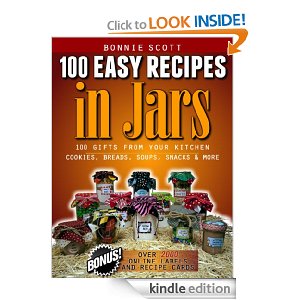 Right now, you can download 100 Easy Recipes in Jars eBook by Bonnie Scott for FREE!  This 182 page eBook contains recipes for a variety of ideas like:
Cookies
Popcorn Seasoning
Coffee, Tea, Cocoa
Soups
Chili
Nuts & Snacks
Muffins
Bars
Breads
Also there are sections for the best way to fill jars so it makes for a pretty presentation, pictures of the filled jars on most recipes, ideas to decorate and personalize the gifts, plus access to more than 2000 online labels and recipe cards to adorn each jarred gift.  Download for free through May 11, 2013.
Download 100 Easy Recipes in Jars for free today!
If you don't have a Kindle, then you can still download these free eBooks to your smart phone or computer. All you need to do is download one of Amazon's free reading apps.
Remember that Amazon prices fluctuate constantly, so verify the price before purchasing.