A question from one of the 3 Moms posts last week.

Do you grocery shop weekly or every other week? If you go weekly, what do you find to be the pro and cons in this?
Here are some reasons why I shop weekly.
Shopping is more manageable. If I were shopping once a month I would be pulling three carts around the store for the amount of items I need to buy for a family of eight.
The commissary is just down the street. It takes me less than 10 minutes to get from my front door to the entrance of the store. I am not saving much time or gas to make it worthwhile to go fewer times every month.
I don't have an extra fridge, freezer, or a pantry. I am limited in what I can store. I would have to run to the store every week anyway to buy produce, eggs, and milk.
It keeps my shopping trips short. My trips are about an hour from start to finish. This allows me to hit the store about an hour before closing when it is less crowded.
I don't have to withdraw all of our grocery money at one time. I take it out weekly, so the rest stays in the bank earning interest (although not a whole lot!)
I am a creature of habit. I have always shopped once a week. I like menu planning and shopping one week at a time.
There is nothing wrong with shopping less often. If we lived far from the commissary, had a smaller family, or more food storage available, I might spread out my shopping trips. Several years ago we lived about an hour away from the commissary. I would go once a month and stock up, then fill in with weekly trips to a local store. This worked because we had two small children at the time so we bought less and spent less.
Tonight I made my second shopping trip of the month.
Shopping List
Coupons are in parenthesis
Grapes 1.6 lbs for $2.83
Bananas 4 lbs for $2
Apples 3.23 lbs for $3.20
Pineapple $2.50
Mayo – $2.25
Bisquick didn't buy
Cinnamon $2.09
grillin beans $1.00 ($1/1)
Pizza sauce $0.72
taco shells 3 @ $0.75 ($1/3)
beans 5 @ $0.39
refried beans 2 @ $0.60 ($0.55/2)
cereal $2.81 ($2/1)
goldfish $1.63 ($.20/1)
mozzarella 1 lb @ $3.00
Cheddar Cheese 1 lb @ $3.00
Eggs 18 @ $1.82
Milk 3 @ $2.23
Yogurt $1.87
Batteries 2 packs for $8.48 ($1/2)
Bread- $1.73
Lollipops $1.69
Items purchased but not on the list
2 Jars salsa $0.99 each ($1/2)
3 packs taco seasoning $0.40 each (all free with coupons)
Soy milk $2.89 ($2.25/1)
Tortillas (pack of 20) $1.56
Sunscreen $5.32 ($1/1)
Total before coupons $71.03
Coupons $11.20
Total OOP $59.83
This is only 5 days worth of groceries since we will be going out of town.

Our daily meals
Breakfast- we were running low on everything today. Once child had cold cereal, a few had eggs, two had oatmeal, I had toast and orange juice.
Lunch- Leftover chicken pot pie, chicken tetrazzini, and graham crackers.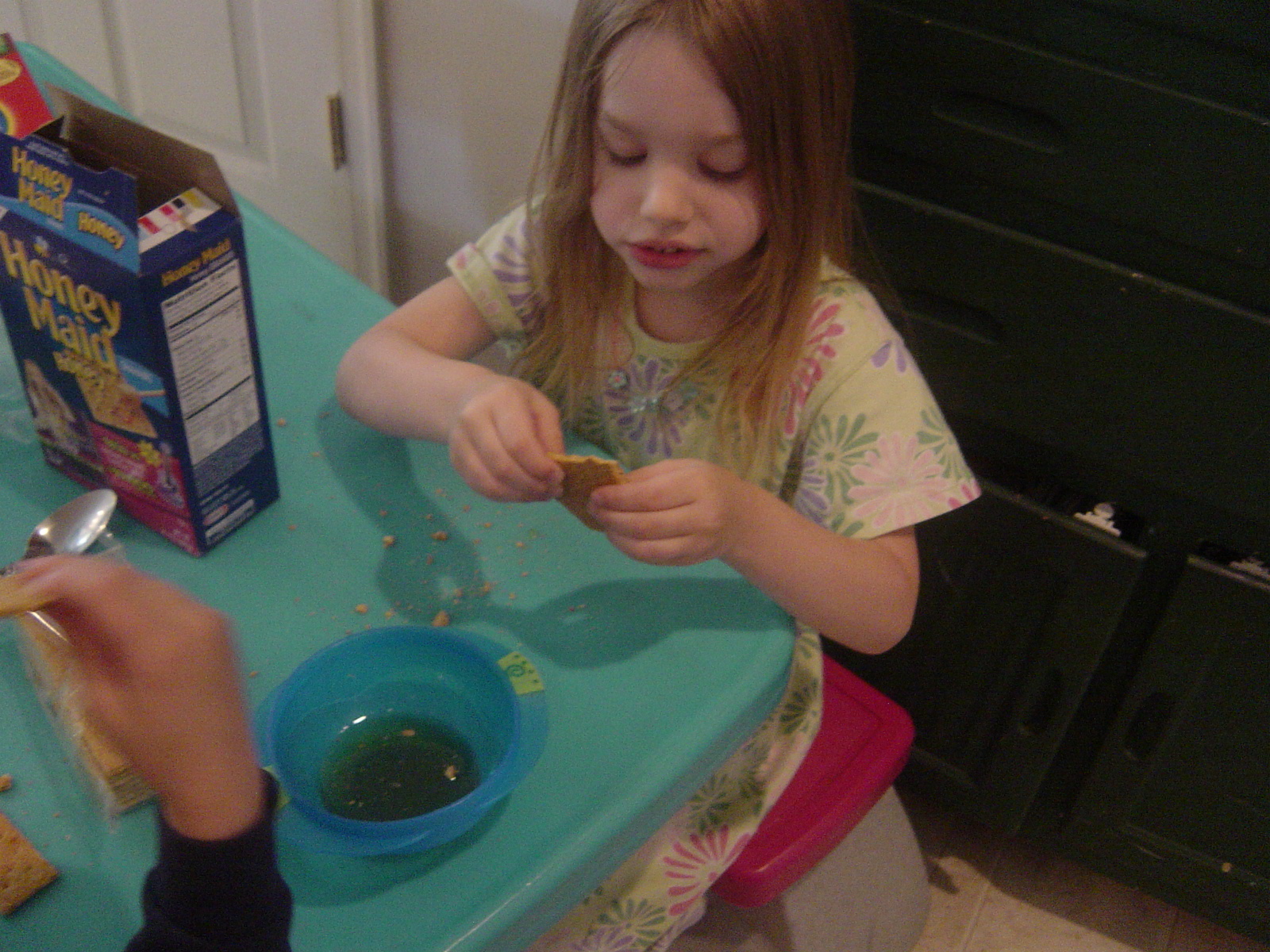 Dinner- Pizza at the cast party for the play.
Don't forget to check out Joy and Kate's blogs to see what they are up to.