I did my first shopping trip of the month on Wednesday night. I know that technically the month didn't start until Thursday, but any of you who have been to the Commissary on a payday know why I went the night before.
I didn't have a lot of coupons for this trip, but I figured I could still keep my cost below $150, which is my goal for each week. Below is my list, with the prices I paid for the items. The items that are crossed through I didn't purchase.

Shopping List
Apples $6.04
Bananas $1.59
Zucchini $0.66
Grapes $4.51
Pineapple $3.50
Cantelope $2.29
Pears $1.65
Broccoli $1.34
Sweet potatoes $2.08
Potatoes $4.39
Onion $0.55
Oranges $ 3.88
Cilantro $0.26
Minced garlic $0.72
Chipotle pepper $3.59
Cayenne pepper
Marshmallows $1.39
3 cans salmon $2.97
4 cans tuna $1.70 (only bought 3)
Applesauce $1.79
Refried beans $0.59
Pasta $1.09
Linguine Noodles $1.09
Baked beans $1.00
Whole Wheat Ritz $2.68
Graham crackers $2.61
Chocolate bars $0.99
Powdered buttermilk $3.59
Chips $4.55
Motrin $4.50
Paper towels $3.14
Trash Bags $2.19
Napkins $1.49
Parchment paper $2.07
Straws $0.45
Ground Beef $2.68 (93% lean)
Hotdogs $1.88
Hotdog buns $1.31
Pickles
Lunch Meat $2.00
Frozen fruit $3.58
Cheddar cheese $1.79
Butter $1.99 1lb
OJ $3.99
Heavy Cream $0.88
Milk $7.20 (3 gallons)
Eggs $1.82 (18)
Yogurt $3.18, $1.79, $1.49
Things I purchased that were not on my list
2 Bottles Juice $4.00 (had $1 off coupon)
Syrup $1.25 (forgot to put it on my list)
Sliced Cheese $1.99
Paper plates $1.49
Peanuts in shell $1.07
Fresh Strawberries $1.99
Whipped Topping $1.00
Total Before Coupons $132.77
Coupons used $5.70
Total OOP $127.07
If my budget was really tight and I needed to cut back, I would have not purchased the juice, peanuts, paper plates, strawberries, whipped topping, graham crackers, marshmallows, chocolate bar, 1 bag of chips, sliced cheese and the lunch meat.
This would have saved me around $22.
The groceries listed above will last until Wednesday May 7. I won't do a full trip next week because we will be going out of town.
I had to run to the store tonight to pick up diapers because we were totally out. This was extreme poor planning on my part because I was unable to find any deals at the last minute. I spent $29 on two mega packs of diapers and a mega container of Oxy Clean, which I needed because everyone's clothes are stained from working in the muddy garden.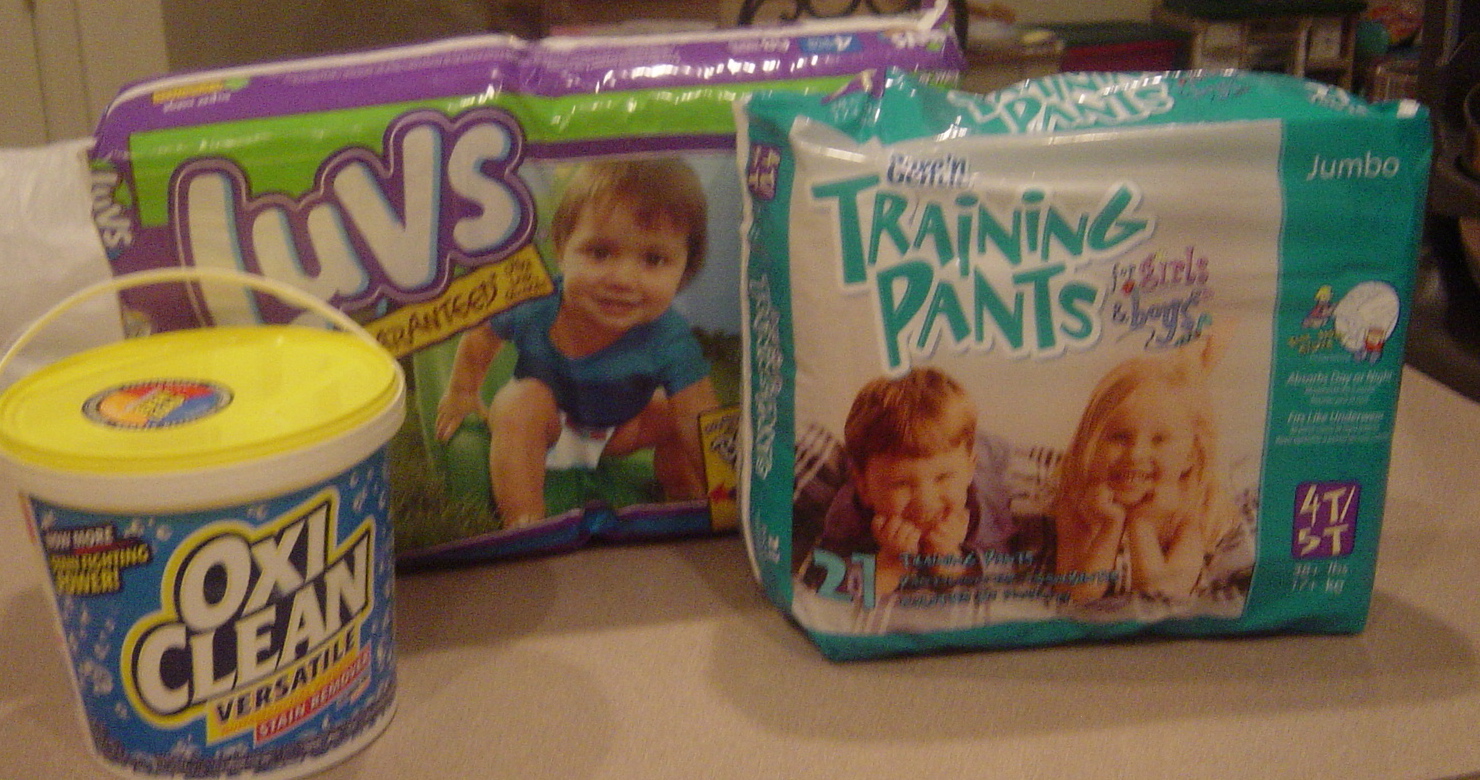 My total for this week is $146.07, which keeps me just slightly under budget.
Don't forget to stop by Kate's blog she has done her monthly shopping trip and has her list posted. She did a great job! Joy did her two weeks worth of shopping and came in under budget!
Thanks to everyone who is following our adventure, we are having a great time and hope you are too.