I finally went to the grocery store yesterday afternoon.
Here is what I purchased:
Bananas $1.61
Apples $2.52
Grapes $3.92
Oranges $1.77
Green Onion $0.44
Red Onion didn't purchase, they were all gross
Lettuce $1.59
Powdered Sugar $2.84
Icing $.75
Bread Flour $2.35
Crackers $1.75
Syrup $ 2.59
Pizza sauce $1.59
Pasta $0.99
Chips $1.95
Oreos
Scallops
Bread $1.51/ $1.51
Lunch Meat $4.00
Paper Towels $3.14
Ice Cream Cones $2.01
Toothpicks $0.61
Paper Plates $1.79
Ground Turkey $1.23
Asiago Cheese
Yogurt $1.69/ $1.87
Sour Cream $1.29
Heavy Cream $0.86
Mozzarella Cheese (2lbs) $ 3.98
Butter (2lbs) $4.20
Milk (3 gal) $6.69
Eggs $1.61
Ice Cream (Birthday Cake or oreo) $2.29
Things I bought that were not on the list:
Beans (on sale + coupon) $3.00
Baby Carrots $1.99
Pepperoni $1.59
Tortillas $2.57
Watermelon $2.99
Tuna $0.99
Green beans $0.69
Frozen Strawberries $1.79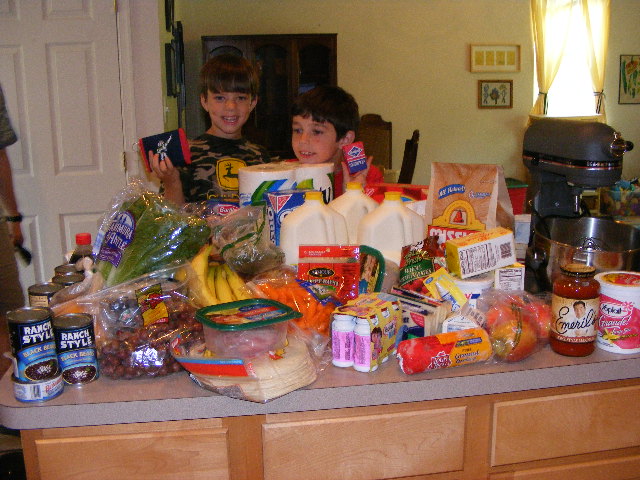 My total was $84.90 after coupons ( I saved $3.85 with coupons). This is my last shopping trip for the month with the exception of Asiago cheese which I did not buy because I didn't see it on the list. This puts my total for the month at $475. This figure is a little skewed because my mom did most of the grocery shopping while we were in Florida. It wouldn't be accurate to include her figures because usually we were feeding 15 people for dinner. Since I knew I was going to be way under budget this month we used some of the grocery money to pay for meals out and also for the night we ordered pizza.
Last night we went to Annapolis with the kids. We decided to try a seafood buffet because the kids ate free. My husband definitely got his money's worth filling up on crab legs, mussels, oysters and such. They made money on me since I didn't eat much of the high cost food and ended up leaving the meal early to take out some unhappy kids.
As a side note, I really love Annapolis. If I had to stay in Maryland I would probably want to live in that area. It is just so beautiful and fun all at the same time. I hope we can go back soon.
For breakfast today we had French toast made with potato bread. For lunch we had sandwiches, pb&j, ham and cheese, and pb and honey. We also had sliced cheese, cut apples, and grapes.
My husband had an appointment for a sleep study tonight at the hospital which he totally forgot about. I was planning on birthday shopping and making my son's cake tonight but that changed a little since my big kids and my husband were not at home to help distract the little ones. A decision had to be made, it was either dinner or cake. Cake won, so we had dinner from Wendy's. I realize that Wendy's was not on the menu plan, is not healthy, and is not cheap, I guess the lesson here is, do what I say not what I do. 🙂
Here is the picture of the cake and the soon to be eight year old. I am not a cake decorator so this one was tough for me, but my son is pleased and that is what matters.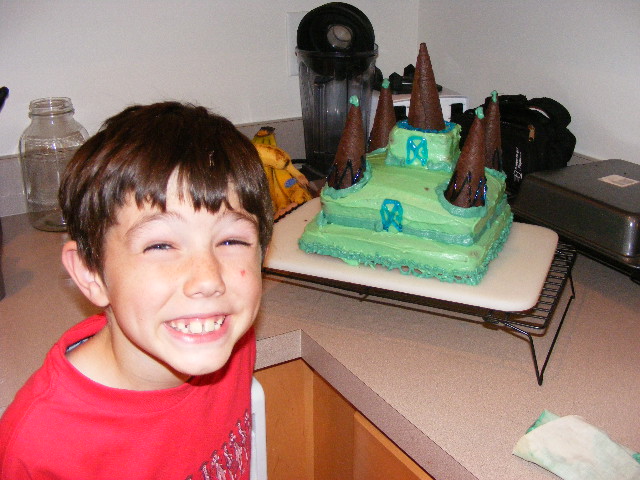 Tomorrow's birthday menu includes donuts and tacos. It should be a fun sugar filled day!
Check out Joy and Kate's blogs to see how they are finishing up the week.