I have a change of plans tonight. My friend called me yesterday and asked if she and her four boys could come to my kids' play tonight. They will spend the night and then head out in the morning. I am excited to see my friend again, but how does this impact my menu? Tonight we are scheduled to have tacos. I don't have enough meat to feed 5 extra people. As I see it I have a few choices. I could make wet burritos, using beans and rice in the burrito to stretch my meat. I could go to the store and by more meat or I could make Mexican lasagna and purchase 2 cans of tomato sauce. The most frugal choice would be the wet burritos, so I am going to make those. The only problem is that my sauce is really spicy and not all of the kids love spicy foods. I usually have my kids eat whatever I make, but I am a bit more lenient when it comes to "hot" foods. So I will make wet burritos for the people who can handle the heat, and bean tacos for the rest. I will try and post recipes and pictures later today.
Yesterday I wanted to start the day off right with some whole wheat waffles. When I woke up I realized that my blog had lost all of its links and photos. I was in a bit of a panic, but tried to not think about it as I was making the waffles. I didn't do a good job focusing on the waffles because the first batch was way too thin and cooked to the waffle iron!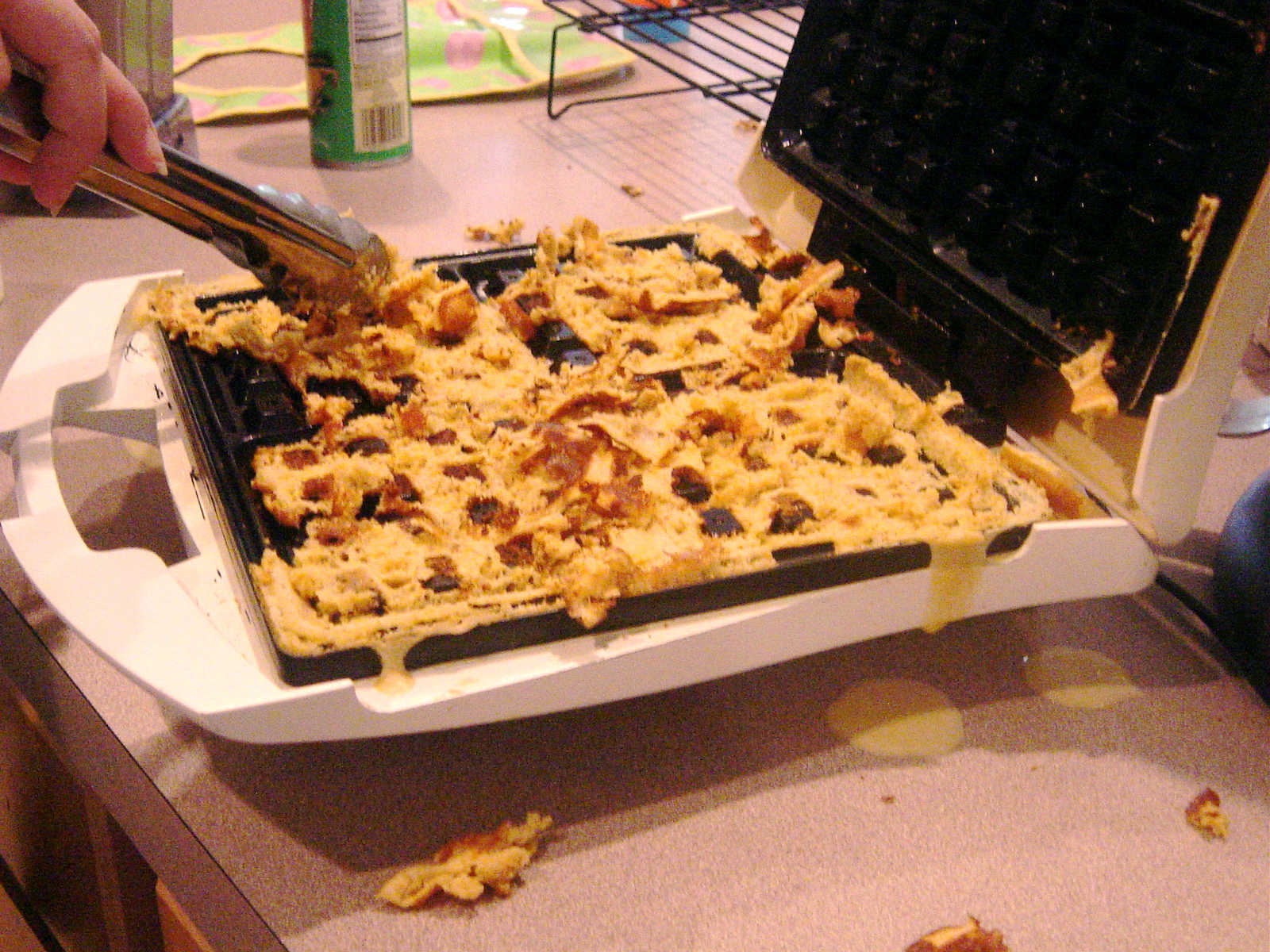 The kids' first reaction was, "Mom you should put this on your blog!"
So here it is, the waffle mess. It took me about 15 minutes to scrape all the waffle off the iron. I added some more flour to my mix and the rest of the waffles turned out great.
I was supposed to make the kids pizza for dinner, but when my dough was done at 11:30 am I decided that we would have pizza for lunch and the sandwiches for dinner.
The pizza was excellent, and I always wonder why we ever order pizza when the homemade stuff tastes so good and is healthy!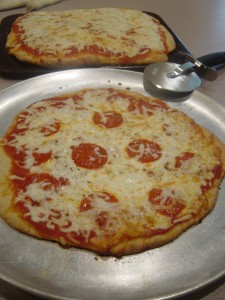 The kids had sandwiches, orange slices, pineapple, and canteloupe for dinner and we ate with friends before our bible study.
Don't forget to tune it tonight!
Please join Toni , The Happy Housewife, Joy, of FiveJs, and Kate, of A simple Walk, on Friday, at 10 pm EST, as we take our 3 Moms ~ 3 Kitchens ~ 31 Days series live on air at TalkShoe. We will be discussing our adventures during the first week of the series, as well as delving even deeper into our kitchen budgets and methods. This will be a perfect opportunity for our readers to ask us questions, get to know all 3 Moms a little better, and maybe even share a tip or two. We have really appreciated all the comments and emails we've been getting, but we know we have not been able to answer everyone as thoroughly as we wanted. That is why we decided to do this open-forum, live discussion on Friday.