After a crazy weekend I feel like we are finally settling back into our routine. Monday and Tuesday my goal was to eat all the leftovers to clean out the fridge in preparation for my big shopping trip.
Monday
Breakfast was leftover pancakes, cereal, and oatmeal. Lunch was leftovers and sandwiches. Dinner was leftovers from our turkey dinner the night before as well as the remains of the pork roast from last week.
Tuesday
For breakfast I made whole wheat pancakes. Lunch was my final attempt to rid my fridge of the leftovers, we had turkey, nacho bake, apples, cantalope. My daughter also created a new (to us) meal of pancakes and peanut butter. That girl will eat anything with peanut butter!
During lunch I put the turkey carcass on the stove top to boil in order to get the rest of the meat off the bones and make broth. I also made a turkey pot pie for dinner. I was almost out of flour so the pie only had a top crust.
We also discovered this week that Cora likes stuffing.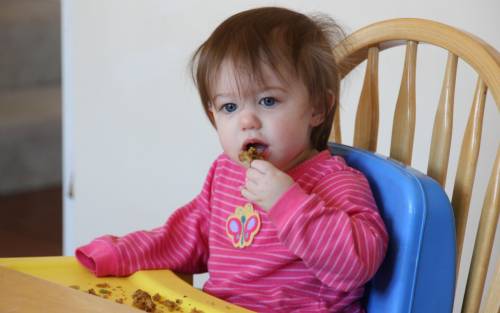 I left for a grocery shopping trip and forgot to mention to anyone that the broth on the stove needed to be watched. A few hours later I called home and asked them to turn the stove off. When I returned home all the broth/ water had boiled off and all the turkey was burned into the pot! I was so disappointed! All that wasted broth and meat!
Dinner was turkey pot pie. Pot pie is a favorite at our house and there are never leftovers! This time I experimented and made a crust that was 50% whole wheat. I still have a really hard time rolling out a whole wheat crust, any suggestions?
I love serving pot pie because it is an all-in-one meal. Grains, meat, and veggies all in one dish!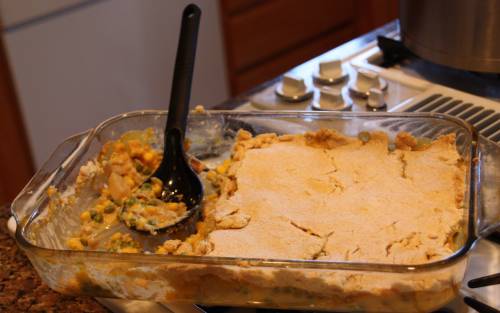 Coming up next: My big shopping trip!
Don't forget to visit Jen and Kate and see what they are up to this week. Kate had a FAIL as well, I don't feel too bad about the turkey broth!