Our meals for the last few days have definitely been vacation style! On Sunday we left at 4:20 am to drive to Florida. We stopped at Shoney's for breakfast so the kids could have their healthy meal. Most of them had an extremely healthy meal of powdered sugar donuts and French toast sticks.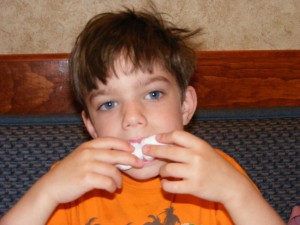 For lunch I had packed sandwiches, chips and fruit but it was raining off and on and the ground was really wet so we decided to stop at Burger King so the kids could get out of the car. I told them that they could each get one thing and then if they were still hungry they could eat snacks in the car. Our total at BK was $10. I couldn't believe it. It was great to get out of the car and stretch our legs for a little bit.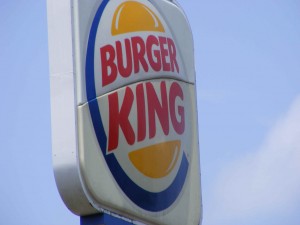 When we arrived in Florida we were greeted with a large dinner of hamburgers, hotdogs, salad, potato salad, baked beans, chips, and other goodies.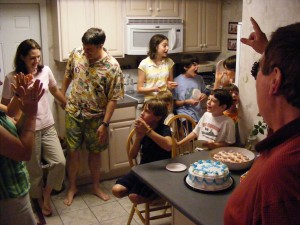 On Monday I made pancakes for breakfast.
For lunch we had our sandwiches from the trip that we didn't eat on Sunday.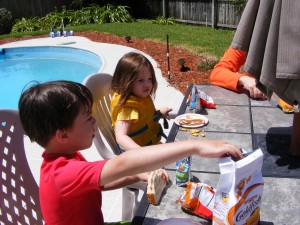 I spent Monday afternoon baking with my sister in law. We made whole wheat bagels, two loaves of potato bread, and pretzels. The pretzels were so good that they were gone in about 10 minutes. We will definitely be making those again while I am here.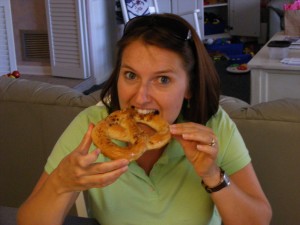 For dinner I made salmon cake sandwiches. There were really tasty.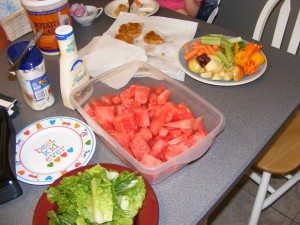 Today we had crunchy corn bran for breakfast. This is my kids' favorite cereal and we can't find it in Maryland.
I have no idea what my family had for lunch or dinner. I visited with friends in the morning and my family went to spend the day with my in-laws. I went to Sweet Tomatoes for lunch with my sister-in-law. I had a huge salad and then two bowls of black bean chili. I need to find a recipe for that because it was so awesome. It really helped my sore throat and I would assume it was sort of healthy since it was full of black beans.
I didn't eat dinner because I came home and slept all evening.
I made a shopping list and my mom went to Publix because we were still making the bread on Monday afternoon. I will post the Publix receipt tomorrow. I tried to make a list that only included items that we needed since my mom wants to clean out her pantry.
I plan on making French toast for breakfast tomorrow and after that I am going to wing it.
I'll leave you with another picture from our trip.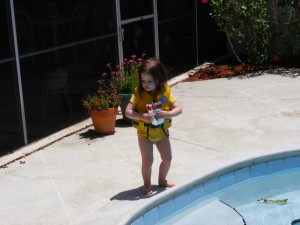 Don't forget to check out Joy's blog for her adventure in vegetables. Kate has some great posts about her recent meals and is going to try and break down her cost per meal in upcoming posts.