I last left off Friday afternoon. We had leftover Mexican lasagna for lunch. In my opinion, that stuff tastes better the second day. For dinner we celebrated my son's birthday so I ordered pizza's from Sam's club. It was over $45 for 5 pizzas. My mom called all the pizza places to see if we could find a better deal, but that was the best price. It did feed everyone (18 people), and we did have leftovers, but I was surprised at the cost of convenience. More on that later.
For breakfast on Saturday we had more Crunchy Corn Bran. I am definitely taking some back to Maryland. We decided to go to Steak and Shake for lunch. This was a big treat for the kids as well as a tradition for our family since there are no Steak and Shakes near us. The kids had a great time, and if I can figure out my new camera I can get some pictures up of our trip. For dinner the kids had leftover pizza, lasagna, and some tuna casserole that a friend of my mom made for everyone.
Saturday night five of my kids spent the night at their aunt and uncle's house. For breakfast on Sunday, they were treated to waffles and ice cream. I have never had waffles and ice cream, but the kids thought it was great. Since we were almost kidless we had breakfast at Panera with my parents and our toddler. I think we all had some sort of egg dish, except for the toddler who had a cinnamon bagel, and if I were to go again I would probably get that instead. It was delicious.
For lunch they were on their own as I stayed at my sister's house to teach her how to make pretzels.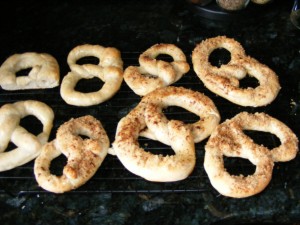 I hope to post a recipe and tutorial for the pretzels when I return from vacation.
For dinner I made salisbury steak and sweet potatoes. It turned out to be quite a hit with the kids. My recipe is so easy. We used premade hamburgers because my mom already had them in her fridge. You take the hamburgers and either fry or grill them. Then you mix together a 16 oz container of sour cream, a can of gravy, and a crushed beef bullion cube. Put the burgers in a 9 x 13 pan and cover with the sour cream mixture. Bake at 350 degrees for about 20 minutes if the meat is hot, 30 minutes if the meat is cold. Serve with rice or egg noodles.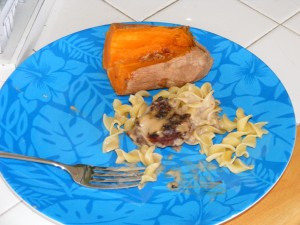 Sorry for the picture. I forgot to take it until everyone had started eating.
I wanted to put a menu plan up for this week, but my husband woke up really sick this morning, so I am not sure of our plans for the week.
My daughter just came in and asked what was for breakfast, so I think I am going with the cereal option again today. I have my nephews over and I don't think my mom has enough stuff to make pancakes. My daughter just returned to tell me that there is no cereal left. Is this a sign that I should buy donuts?
I did go to a bakery outlet yesterday with my sister and pick up a huge box of goldfish. I thought the prices were good, but not great. Goldfish will be a nice treat for the trip home, and I was just informed that my toddler is currently eating them for breakfast. I hope to update my grocery sidebar today, as well as come up with some sort of menu plan for this week.
Check in with Kate and Joy to see what people should be eating for breakfast.