I have been reluctant to post my vacation meals because they have been lacking in most vitamins and anything else I consider healthy. My boys spent the past two days at their grandma's and over the years I have adopted the policy, "what happens at grandmas, stays at grandmas." As long as they wear sunscreen and don't get too close to the resident alligator I am happy. My son told me before he left for his grandma's house that he loved going there because he got to eat Lucky Charms any time he wanted. I had a grandma like that too, so I understand.
As for the rest of us, Wednesday morning I made French toast with the potato bread I made on Monday. It is hard to have a bad morning when you are cooking with this view.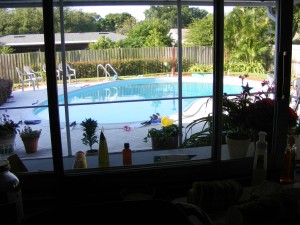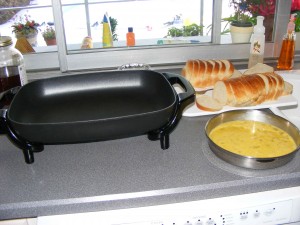 My French toast recipe is pretty basic. For one loaf of bread (I use potato bread) I mix 4 eggs and a cup of milk. I sprinkle cinnamon in the egg/milk mixture.
For lunch we had leftovers, hotdogs, sandwiches, cut up fruit and veggies and cheese. My two girls made a deal with me. They each had a whole plate of cantaloupe for lunch and then they had a piece of cake. I only make these types of deals on vacation.
For dinner, my brother treated us to a meal at a restaurant called Seasons 52. This place was neat. Everything on the menu is under 475 calories and they use all natural ingredients. I had a grilled chicken salad and my husband had some sort of scallops dish. The girls stayed at home and had grilled cheese.
Thursday morning we had Crunchy Corn Bran, leftover French toast, pancakes, and the bagels we made the other day. Lunch was leftovers for me and the girls. For dinner we had Mexican lasagna, as well as a large fruit and veggie tray. I was only able to get a picture of one of the casseroles because I was on pool duty with the kids.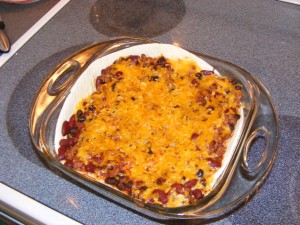 My parents had bible study last night so there were a variety of desserts as well as popcorn. My oldest daughter made a birthday cake, which my dad cut. I am including a picture so you can all see how not to cut a cake.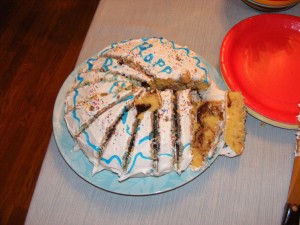 This morning we had another leftover breakfast of bagels, French toast, and Crunchy Corn Bran. I think I might have to buy some to take back to Maryland.
Tonight we are celebrating my son's eighth birthday so we will be having pizza in some form or another.
Tonight we will also be hosting our second 3 Moms Live radio show. You can find out more about it here.
Don't forget to stop by Kate and Joy's blogs and see what they are up to.