I am so behind in posting my meals! I cannot even remember what we ate on Sunday, although hot dogs and macaroni keep coming to mind.
On Monday I used the last of the bisquick to make pancakes for the kids, I made buckwheat pancakes for my husband and since I was feeling a bit like a short order cook I made a bullseye for myself.
We ran errands with the kids until past lunchtime so we stopped at Fuddruckers for lunch, which is probably one of my favorite places to take the kids. It is fast, sort of cheap and better than that place with the clown.
For dinner the kids had open tacos, which for those of you who asked, they are hard taco shells broken in two and topped with refried beans and cheese. I remember having these when I was a kid and loving them. They are so easy and a good way to get your kid to eat beans.
Even though my husband and I love these, it takes about 20 to fill us up so I made some black bean soup for us as well.
I wanted to post a recipe, but I didn't really use one. Below are the ingredients minus the quantities, just keep adding until it tastes good.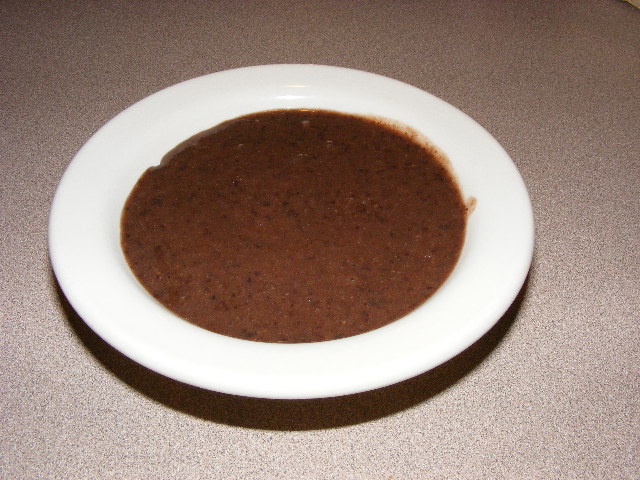 If you really wanted to get fancy with this you could garnish with a scoop of sour cream, green onion, jack cheese, or rice. I prefer Fritos, but that doesn't really mix with the healthy eating thing.
Today we had leftover pancakes for breakfast. For lunch we had a hodge podge of leftover Fuddruckers, yogurt, sandwiches, hot dogs, and eggs. Fruits and vegetables will make their appearance in our meals after my trip to the store tonight.
Stop by Kate and Joy's blogs for some recipes with actual amounts that you can measure.