by contributing writer Lynn
What do you think of when you think of freezer cooking?
Maybe shopping for hours and then spending a full day in the kitchen cooking? That is what many people think of when it comes to freezer cooking, but that's not the freezer cooking I'm talking about today. I am talking about easy freezer meals.
Yes, freezer cooking can be quick and easy. It does not have to take all day or use a huge amount of ingredients. There are many ways to freezer cook. Yes, you can spend hours in the kitchen, but for most of us that is not reality with everyday life.
The style of freezer cooking that I prefer is simple and often involves putting a few things away in the freezer here and there.
It might mean doubling dinner one night so that I have an extra meal to freezer. Or it might mean an hour or two spent where I focus on making a few things for the freezer. Sometimes that involves freezing a whole meal, but often it means freezing the main part or a portion of the meal.
It is easy to stock your freezer with meals with very little extra effort. And today I am sharing my top five easy freezer meals.
Taco Meat
Taco meat is not a meal by itself, but it is my favorite item to keep in my freezer because of how versatile it is. It can be used for tacos, taco salad, nachos, burritos, enchiladas, and more.
Spaghetti Pie
Spaghetti Pie is a meal I have been freezing for years. It is cheesy and delicious and my kids love it.  It is so easy to make one for dinner and one for the freezer.
Grilled Chicken
Chicken is another great freezer meal and for this time of year grilling it works great. It is another one that is not a full meal, but saves you so much time because you have the main part of the meal done. You can reheat it and serve it as the main dish or you can chop it up and serve it on salad, as sandwiches, or in Mexican food. Really the possibilities are endless with cooked chicken.
Meatloaf
Meatloaf is a favorite dinner in my house and is simple to freeze. I like to cook several meatloaves up and then freeze them, but you can also combine all the ingredients together, form into loaves, freeze, and then cook them at the time you plan to serve them.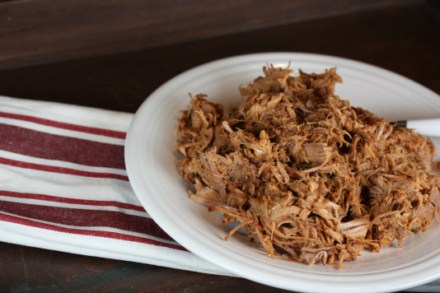 Easy BBQ Meat
BBQ Meat is another one you will almost always find in my freezer, and it is perfect for this time of year. You can serve this as is, as sandwiches, or on top of a baked potato. Just take any meat you like or find on sale. Boneless skinless chicken, pork roast, or a beef roast works well. Place in a slow cooker and pour about 1 cup of barbecue sauce on top. Cook for 6-8 hours, depending on how much meat you are cooking. Remove from slow cooker. Using two forks shred the meat. Add more sauce if desired and freeze in zip top freezer bags. Freezer cooking cannot get much easier than that.
Have you tried freezer cooking? I would love for you to share your favorite easy freezer meal.
For more freezer ideas, check out 5 Simple Ways to Fill Your Freezer and 10 Simple Ways to Organize the Freezer.