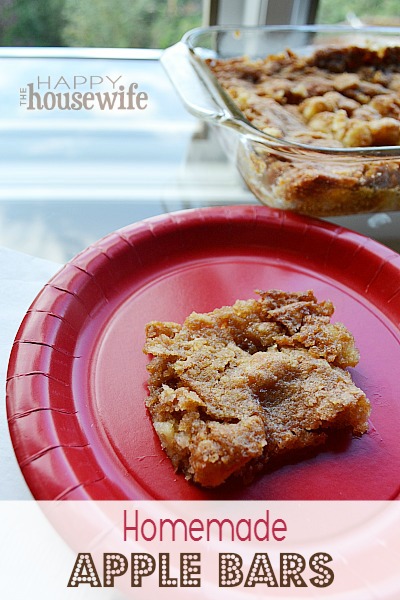 By contributing writer Andrea Green
If you are looking for a sweet treat to pack in lunch boxes or serve as an after school snack, look no further. Homemade Apple Bars are chock full of apples tucked into a delightful cinnamon batter.
These blondies are quick to make. In fact, you can get fall flavor in a plate with minimal effort.
Print
Apple Bars
Ingredients
8 tablespoons butter
1 cup flour
1 teaspoon cinnamon
1/2 teaspoon baking powder
1/2 teaspoon salt
1/4 teaspoon baking soda
1 cup sugar
1 large egg
2 cups peeled, chopped apple
Instructions
Preheat oven to 350. Grease a 7 x 11 inch baking pan.
Melt butter and set aside to cool.
In a small bowl, stir together flour, cinnamon, baking powder, salt and baking soda.
In a mixing bowl, beat together butter, sugar, and egg for 2 minutes or until creamy.
Add the flour mixture to the butter mixture and beat another 30 seconds.
Carefully stir in chopped apple.
Spread batter into prepared pan. It will be thick. Bake for 40 minutes or until golden brown.
Cool on a wire rack before cutting into bars.
Notes
I always make these without nuts because I personally feel that nuts have no place in desserts. However, should you be in the nuts-in-dessert camp, you can add 1/2 cup chopped walnuts to the batter when you add the apples. Use any sweet apple in this recipe. My favorites to use are Gala or Braeburn.
Courses Dessert
You might also like…