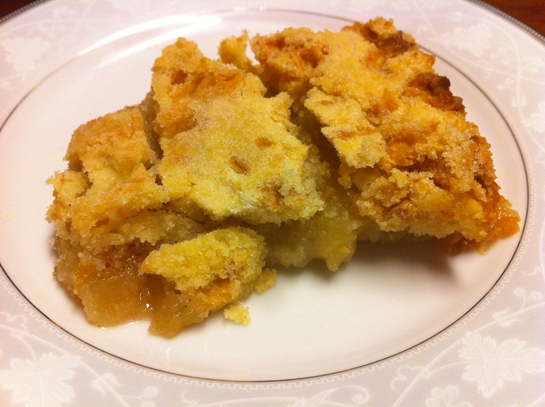 It's apple season. Time to stock up while they are a great price and make this yummy apple crisp.
Print
Apple Crisp
A quick and easy recipe for homemade Apple Crisp that is sure to become a family favorite.
Ingredients
Apple Filling
6-8 medium sized Granny or Jonathan Apples, peeled, cored, sliced 1/4 inch thick
Cinnamon, liberal amounts
1 teaspoon salt (optional)
Crust
2 cups flour
2 cups sugar
2 sticks of butter or margarine
Instructions
Peel, core, and slice apples into 1/4 inch slices.
Layer half into a 9x13 inch pan.
Sprinkle liberally with cinnamon and half the salt. (Can omit the salt.)
Layer remaining apples on top.
Sprinkle liberally with cinnamon and remaining salt.
Add the flour, sugar, and butter to a medium bowl and use a pastry blender (or knife and fork) to blend until crumbly.
Pour flour mixture over the apples making sure to cover all the apples completely. Note: I've found that using my hand to scoop it out of the bowl and sprinkle over the apples tends to work better in making sure that there are butter crumbles over the entire pan.
Pat down firmly.
Bake at 450 degrees for 10 minutes.
Reduce heat to 350 degrees and bake for 40-50 minutes until browned and bubbly. Keep an eye on the crust towards the end to make sure it's not getting too dark. Add foil if necessary.
Remove from oven and let rest for 20 minutes or so. (Try to withstand the temptation to taste test as the apple filling is super hot!)
Serve warm as is or with a scoop of ice cream or whipped cream.
Notes
Store apple crisp with the pan lid ajar to keep the crust from getting too soggy.
Related articles