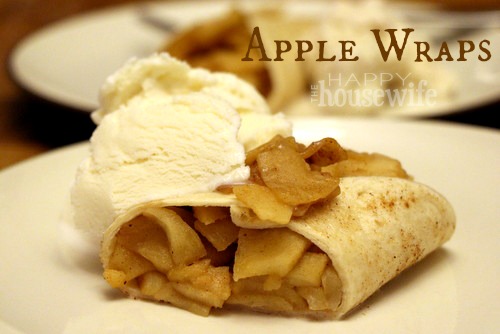 By contributing writer SnoWhite
Choose your favorite fall apples to use in this dessert, and in less than 10 minutes you can have a tasty treat.
Print
Warm Apple Wraps with Vanilla Ice Cream
Yield 4 -8
Ingredients
4 fajita sized flour tortillas
1/2 tablespoon melted butter
1 teaspoon sugar
1/4 teaspoon cinnamon
1 recipe maple apple sauté
vanilla ice cream (optional)
Instructions
Begin by preparing the maple apple sauté according to directions. Set aside.
Brush the melted butter on one side of the tortillas.
Combine 1 teaspoon sugar with 1/4 teaspoon cinnamon, sprinkle the mixture over the buttered sides of the tortillas. Flip onto a plate so the cinnamon sugar side is down.
Divide the maple apple sauté into quarters and scoop one quarter down the center of each tortilla.
Wrap up the tortilla, using a toothpick if necessary.
Place a scoop of vanilla (or even cinnamon) ice cream on the top, if desired.
Serve immediately either whole, or slice in half to feed up to 8 people.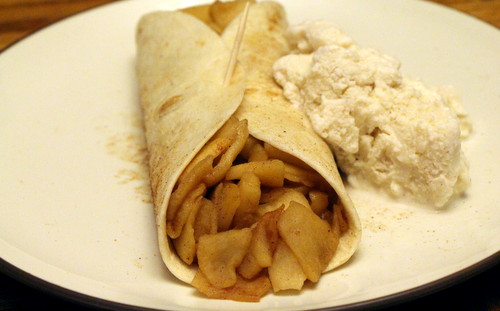 Try this homemade vanilla ice cream.
Find more delicious meal ideas at the The Happy Housewife Recipe Index.