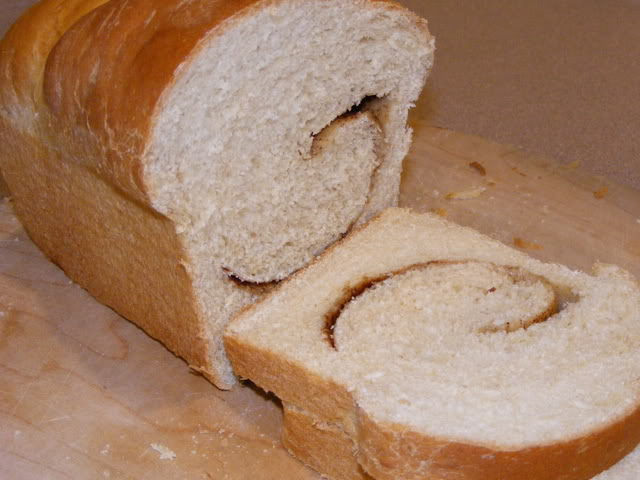 This breakfast bread can be made the night before or weeks before and frozen.  It was a big hit with the kids for breakfast this morning. Serve with fresh fruit or yogurt.
Print
Babka
Ingredients
Bread Ingredients
2 1/2 teaspoons active dry yeast
3 1/2 cups flour (I used half white, half whole wheat)
1/2 teaspoon salt
2 tablespoons sugar
2 tablespoons softened butter
1/3 cup powdered milk
1 1/8 cup warm water
2 eggs (room temperature)
1/2 teaspoon vanilla
Filling Ingredients
1/4 cup brown sugar
Cinnamon
Optional Topping
1 tablespoon softened butter
2 tablespoons sugar
2 tablespoons flour
cinnamon
egg wash (1 egg white beaten with 1 teaspoon of water)
Instructions
In a mixing bowl, add yeast and warm water.
Let sit for 10 minutes.
Add all wet ingredients and then dry ingredients adding the flour last. Add the flour slowly until your dough is the correct consistency for bread.
Knead for 10 minutes.
Cover and let rise for about an hour or until doubled.
Once the dough has doubled, roll out the dough into a rectangle that is a little wider than the bread pan.
Sprinkle cinnamon and sugar on the dough, they same way you would make a cinnamon roll.
Roll up the bread and tuck the ends under. Make sure your ends are tucked under on the same side as the seam of your roll. If you don't get a good seal on your seam and your tucked ends you will end up with a messy loaf.
OPTIONAL Topping Directions: Before baking, make a crease in the top of the loaf. Brush the loaf with the egg wash and then sprinkle on the topping.
Let rise for about an hour.
Bake at 350 for 25 minutes. If the bread starts to brown too quickly tent with foil.
When the loaf is finished baking brush with butter for a soft, shiny crust.
Notes
If I had to change anything about the way I made this bread I would have made it thinner when I rolled out the dough so we would have had more cinnamon sugar swirls.
Courses Bread