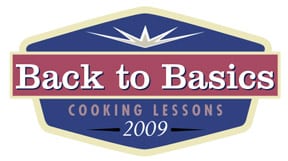 Last month I was given the opportunity to try a new online cooking class called Back to Basics. I didn't think I needed it as much as I thought it would be a great beginning to a home economics program for my oldest daughter. At the beginning of the year I had good intentions of creating my own home economics course, but with the pregnancy I just never had time. My daughter has some cooking skills and is great at following recipes, but I thought it would be a bonus if she had some formal training… unlike my method which is something like, "Add garlic to everything."
I cannot stress how important it is to teach your children to cook, or learn to cook yourself. One of my biggest stumbling blocks to cutting back our finances was the fact that I had a very limited repertoire of meals and relied heavily on convenience foods for the first several years of our marriage. Learning to cook from scratch helped me tremendously in my quest to save more money at the grocery store. I was able to purchase food in bulk as well as walk by all those high priced convenience items since I knew how to make it myself.
Shelley at One Roast Vegetable has created a 14-week Back to Basics Cooking Class and registration for the next class beings March 24th.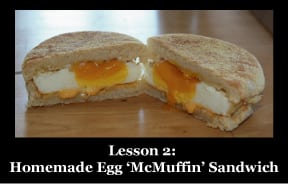 It's an online class that takes place in your own home (no traveling), and you can work at your own pace, so very low stress.
Each week you receive a new lesson, and you can follow along with her step-by-step instructions and videos.  You'll learn the basics, like how to make a perfect hard boiled egg, how to roast a chicken (and what to do with the leftovers).  And I know for a fact that in this class she's going to share her 4-ingredient recipe for cinnamon ice cream that's a real show-stopper!
In fact, if you'd like to see some of the preview lessons Shelley has created for the Back to Basics Cooking Class, then you should definitely sign up here and check them out.
I have viewed the first four lessons so far and have been impressed. The videos are easy to follow and the instructions are simple. If fancy cooking terminology is used, it is immediately explained for the less experienced cooks.
According to Shelley here are a few reasons you should take her class.
If you think your husband secretly likes his mother's cooking better than yours … this class is for you.
If you're a home schooling mom who is looking for some perfect Home Economics curriculum … this class is for you.
If you're paralyzed in the kitchen or you think you're a terrible cook … this class is for you.
And if you're worried about how much take-out and prepared food you're eating and you want to learn how to make more things 'homemade' … this class is for you.
Of course, I wouldn't tell you all these great things and then not offer a giveaway to one of my readers, right? If you would like to win a free registration to the next Back to Basics Cooking Class all you need to do is leave a comment on this post. For a second entry tweet about this contest, and leave a second comment letting me know. Contest ends Friday March 13, 2009 at 10 pm EST.
For a limited time you can view an entire sample lesson, Homemade Egg 'McMuffin" Sandwich.