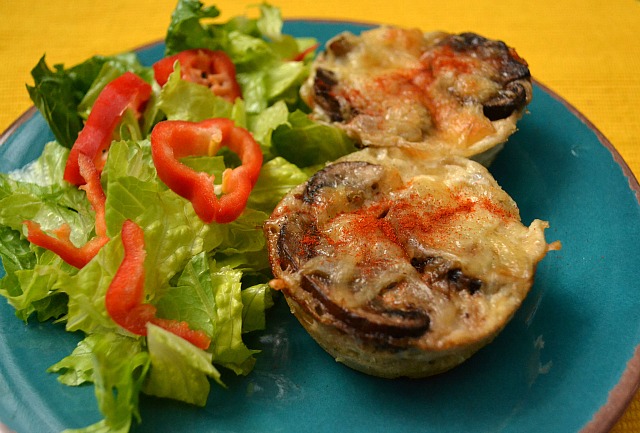 By contributing writer Andrea Green
You may want to double, triple, or even quadruple this recipe for Bacon Swiss Quiches. Being able to freeze these means a quick and easy breakfast is at your fingertips.
Have a microwave where you work? Bacon Swiss Quiches also make a great lunch next to a big, leafy salad or a cup of tomato soup.
Will you be tailgating at all this year? These are always a big hit when served as an appetizer. Or, you may want to serve them the next time you host Bunco. Since you have them in the freezer, they are quick and easy to prepare on game day.
Freezing Instructions
After baking, allow to cool completely on a wire rack.
Place them about an inch apart on a cookie sheet lined with waxed paper.
Freeze for about 2 hours before removing from cookie sheet.
Place in a freezer safe container or freezer bag labeled with cooking instructions.
Reheating Instructions
Microwave: Cook from frozen for 1-2 minutes depending on your microwave.
Oven: Bake from frozen at 350 for 35 minutes.
Print
Bacon Swiss Quiches
Yield 12
Ingredients
1/2 cup butter, softened
3 ounces cream cheese, softened
1 cup white whole wheat or unbleached organic all purpose flour
5 slices bacon
1 package sliced mushrooms
1 onion, diced
1 cup shredded Swiss cheese
2 eggs, slightly beaten
1 cup milk
Instructions
Preheat oven to 350.
Cream together butter and cream cheese.
Blend in flour.
Coat a muffin pan with cooking spray and evenly divide the flour mixture between the muffin cups. Press well.
In a skillet, cook bacon until crispy. Remove bacon but reserve drippings in pan.
Saute onion and mushrooms in bacon drippings until softened.
Chop bacon and combine with onions and mushrooms. Add cheese. Spoon mixture into muffin cups.
Combine eggs and milk. Pour over mushroom mixture.
Bake at 350 for 30 minutes. Either serve right away, or allow to cool in pan on wire rack before freezing.
Notes
This recipe makes 12 regular size muffins. You can make them in 24 mini muffins for a bite-sized appetizer.
Courses Breakfast
Do you freezer cook? Would you take these to lunch?
Related Links