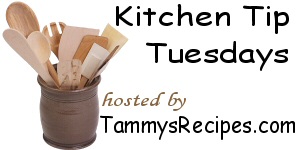 I can't believe it is already time for another Kitchen Tip Tuesday. My weeks are flying by. This week I have some banana tips. Bananas are cheap, healthy, and most kids like them. They are also versatile. You can eat them plain, put them on cereal, use them in desserts, smoothies, and of course, make banana bread with them.
When your bananas are getting spotted and no one wants to eat them here are some ways to use them:
3 Ways to Freeze the Bananas
Freeze them with the skin on because when the bananas thaw they are very runny and mushy, I use these in banana bread or banana muffins.  (Pssst…if you love banana muffins, then be sure to try these delicious Mocha Banana Muffins!)
Peel the bananas and freeze them in ziploc bags, I use these in smoothies. Be sure to read my Smoothie Tips!
Slice the bananas and freeze on a cookie sheet. Once they are frozen, transfer them to a ziploc bag in the freezer, my kids like these for snack. They also can be used in pancakes like this recipe for Banana Nut Pancakes or desserts that call for sliced bananas.
Our favorite smoothie recipe:
2 frozen bananas
2 cups frozen strawberries
1 cup vanilla yogurt
1 orange (peeled to the white part)
1 apple (peeled and cored)
1 pear (peeled and cored)
splash of milk depending on how thick you like your smoothie
Blend all ingredients together and serve.
My Tip: Bananas are great in smoothies because they mask the flavor of other foods that you might not think of putting in a smoothie. I can add spinach or carrots to a fruit smoothie and no one notices if I also add bananas. Using frozen bananas also give smoothies a creamier texture.
Bake the Bananas
Banana muffins are a staple around our house, I make them at least once a week for lunch and try to freeze the extras for snacks.
Here is the recipe I use for banana muffins, however I usually triple it as I have seven kids….
1 1/2 cups flour (I use fresh ground wheat)
1 1/2 tsp baking powder
1/4 tsp baking soda
1 shake of cinnamon
1 egg
2 mashed bananas
3/4 cup sugar
1/4 cup applesauce
Mix together and bake @ 350 degrees for about 15 minutes. Cook longer for bread, shorter for mini muffins.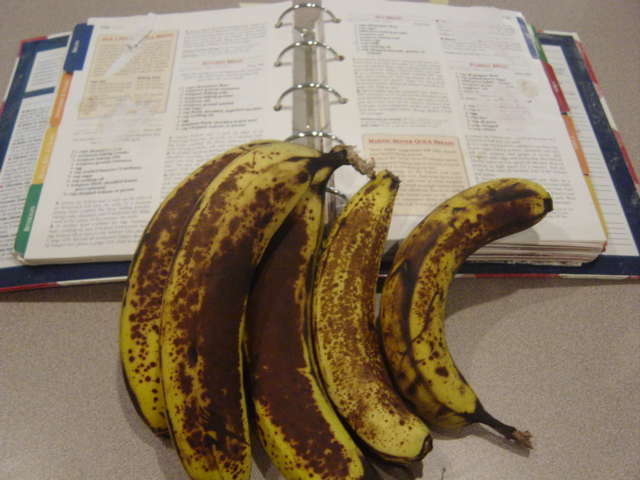 Next time you are at the store and over ripe bananas are on sale, stock up and freeze them for later.
A few more of my favorite Banana Recipes:
What's your favorite banana recipe?