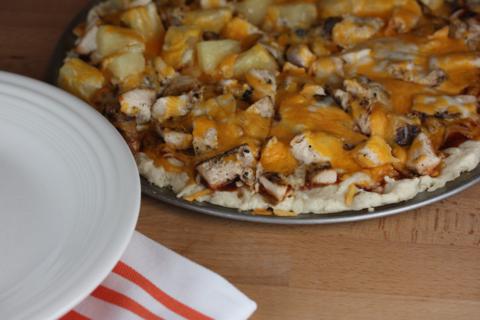 The following is a post from contributing writer Lynn.
One of the best ways to save time and money in the kitchen is to make things at home using what you have on hand.
My family loves making pizza at home because it is much cheaper than eating out, and I can control the ingredients.
A favorite homemade pizza in our house is barbecue chicken. I almost always have some cooked chicken in the freezer. It is so easy to grill a few extra chicken breasts or save a little meat from cooking a crock pot chicken to keep in the freezer for meals like barbecue chicken pizza.
What I love about homemade pizza is how much I can change it up to make everyone happy. Some in my family like pineapple on their pizza and some do not. I solve that by only putting pineapple on half of the pizza. If your family likes peppers and onions feel free to add them. You can really change up the basic idea and make it your own.
Print
Barbecue Chicken Pizza
Ingredients
pizza dough (homemade, store bought, or gluten free pizza crust)
¼ cup barbecue sauce
3 cups cooked and chopped chicken
2 cups Colby jack cheese
Pineapple, peppers, other topping (optional)
Instructions
Roll dough out onto a pizza pan or stone.
Spread with barbecue sauce.
Sprinkle half of the cheese on top of the barbecue sauce.
Spread chicken, pineapple, and other toppings on top.
Sprinkle with remaining cheese.
Bake at 425° for 15-18 minutes or until done.
Find more delicious meal ideas at the The Happy Housewife Recipe Index.