So I just realized that I've spent the past twenty some years thinking BBQ chicken is chicken with BBQ sauce on it. Not that there is anything wrong with that, in fact it is one of my favorite meals.
After watching an episode of The Chew I realized that BBQ is actually a way of cooking meat over a low heat with wood or charcoal. Since I haven't had a charcoal grill since we lived in Cuba I thought I was going to have to settle for food covered in BBQ sauce forever. (Not that it's a bad thing!)
Then I learned a little trick. You don't need a charcoal grill or wood fire to BBQ meat. You can actually take wood chips, soak them, and wrap them in foil then poke holes in the foil. Let them sit on the grill while you cook your meat.
You get that amazing BBQ flavor without all the work of getting that charcoal grill just right.
Over the past few weeks (since we got our new grill and I've become slightly addicted to grilled chicken) I've been experimenting with different chicken marinades. What I've realized is that they are hard to mess up as long as you aren't trying to get crazy and add pineapple with apple cider vinegar.
This week I tried a smokey marinade and it was a huge hit! This is perfect for grilling with the wood chips because it brings out the smoky flavor from the paprika.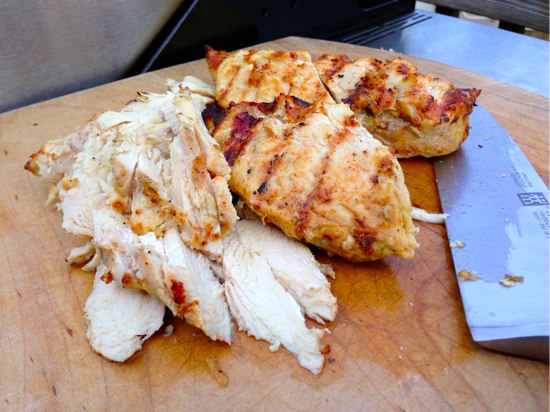 Print
BBQ Chicken & The Chew
Ingredients
Chicken (legs, thighs, breasts)
Olive oil
Smoked paprika
Red pepper flakes
Minced garlic
1 beaten egg
Instructions
Trim the fat off the chicken, if necessary.
Place in a freezer bag and pour olive oil over the chicken.
Add paprika, red pepper, garlic, and egg.
Mix around in the sealed bag.
Marinate for 4-6 hours.
BBQ on the grill until cooked through.
Slice and serve.
This is an awesome recipe because you can use the chicken in so many different ways. Slice it and serve on salad, in tortillas, on rice, in tacos, or just serve as a main dish. We served it on it's own because it was just that good- but I plan on adding it the the top of my daily salad next time.
The best part about marinading and BBQ'ing meat is that you can do it ahead of time, even freeze it and then BBQ it when you have friends over. Since my backyard regularly looks like this-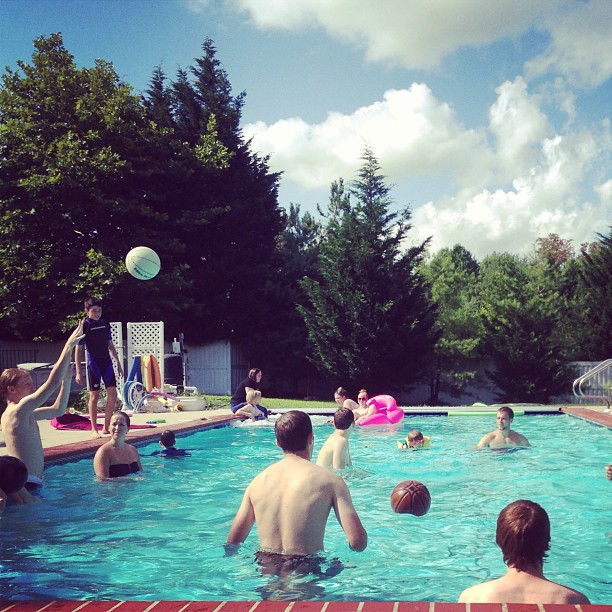 It's great to have some easy go-to dishes on hand to feed a crowd.
The Chew is filled with great cooking tips, delicious recipes, and is entertaining as well. If you haven't watched an episode you can tune in below and get inspired to start cooking. I love shows that give me new ideas for meals since my family likes to try new things.
If you're a foodie tune in to The Chew. You'll love the hosts and all the great recipes. I have several new must try recipes on my list after watching.
I'm always looking for new ways to spice up my Summer dishes, and ABC's The Chew serves up everything from grilling and outdoor entertaining to road trips and picnics. Watch weekdays 1e|12p|c on ABC to see what celebrity chefs Mario Batali, Michael Symon, and Carla Hall, lifestyle expert Clinton Kelly and fresh face of healthy living Daphne Oz are dishing out to inspire you this Summer.
This is a sponsored conversation written by me on behalf of ABC's The Chew. The opinions and text are all mine.
This is a sponsored conversation written by me on behalf of ABC's The Chew. The opinions and text are all mine.