Make sure you enter to win an Ipad at the bottom of this post!
Less than two weeks ago I went to the store and spent almost $300 and I didn't buy any "junk" food. 10 days later I'm quickly running out of food. Food prices are rising, gas prices are rising and kids are growing. It is hard work to keep our groceries under budget every month.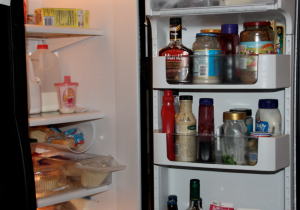 This month is all about challenges here at The Happy House and I'm going to let you in on a little secret about me. My biggest grocery budget buster every single month is food waste. Items disappear in the fridge or sit uneaten. I also struggle with the "how long has this been in here" issue. Since I don't want my family to get sick from spoiled food my motto has been "when in doubt, throw it out."
While food waste has plagued my family for years I finally figured out an easy (and frugal) solution. Stay tuned next month to read my Genius Tip on how I'm winning the food waste war!
Do you have a food/cooking challenge? Share it below, and we'll try to help solve it! For a chance to win the new iPad2, 'like' Kenmore on Facebook and let us know in your reply.
If you subscribe via email you might have to click over to comment on this post.
This is a sponsored conversation written by me on behalf of Kenmore. The opinions and text are all mine.