I never realized how nice it was to have a good quality blender until I got a good quality blender. I thought it was normal to drink chunky smoothies and never dreamed you could make things like ice cream or soup in a blender!
When the folks at Blendtec asked if I wanted to review and giveaway one of their blenders I couldn't wait to give it a try. I mean everyone knows the Blendtec can blend an iphone, but how about something my family likes to eat?
Since my kids drink smoothies almost every day I decided to see how the Blendtec stacked up to my current blender.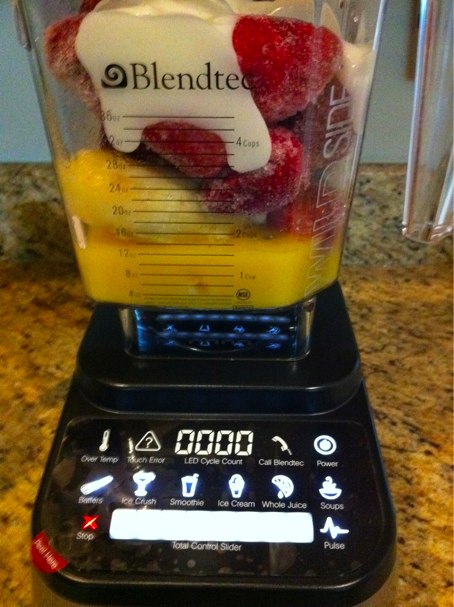 It was really important to me that the Blendtec blended the carrots and spinach into the smoothie so my kids would drink it. They don't mind a nice serving of veggies with their breakfast as long as they don't have to taste it.
The result? A big thumbs up from everyone.
Not only does the Blendtec make awesome smoothies, you can also cube cheese, chop nuts, chop vegetables, make powdered sugar, grind meat, crack grains, mix batters, make soup, and of course, my family's favorite, ice cream!
The Blendtec design fits under your kitchen counter (nice!),  has a large 3 quart capacity, and BPA free jar. I love the touch pad controls which make for easy clean up.
The Blendtec has quickly become my favorite blender, and for those of you who know how much I loved my other blender that's saying something!
But you don't have to take my word for it, you can try it for yourself because I'm giving one away. Yep! I'm giving one of my readers a brand new Blendtec… Merry Christmas 3 months early!!!!!
Since this is such an awesome giveaway I'm giving you several ways to enter.
Please leave separate comments for each entry.
Giveaway ends October 2, 2012.