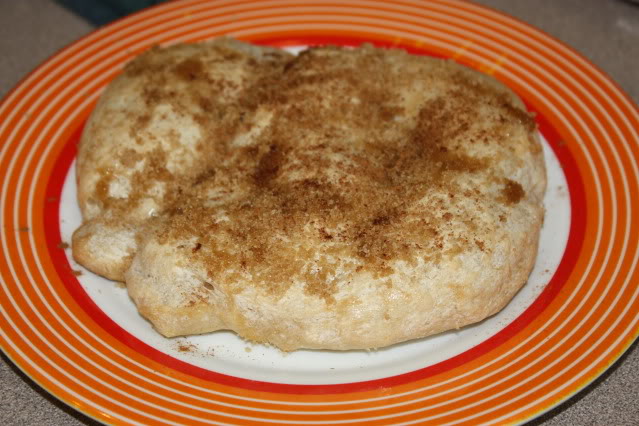 Last week I tried making Auntie Anne's pretzels in the bread machine. I am not sure if this is the best recipe to use since the pretzels ending up rising like crazy and looked like pretzel "buns" but they tasted delicious!
Print
Bread Machine Pretzels
Ingredients
1 1/2 cups water
1 1/4 teaspoons active dry yeast
2 tablespoons brown sugar
1 1/4 teaspoons salt
4 cups flour (I used half white/ half wheat)
2 tablespoons baking soda
melted butter, for brushing
Top with coarse salt or cinnamon and brown sugar
Instructions
Add all the ingredients to your bread machine in the order recommended but the manufacturer.
Set your machine on the dough setting.
When the dough has finished the cycle in the machine it should look like this.
Remove from the pan and place on a floured surface.
Divide the dough in about 7 to 8 pieces and then roll out with your hands so the dough forms a snakelike shape about 1/2 inch thick.
Take your "snake" and form it into a pretzel shape.
Dip your pretzel into a pan filled with 2 cups water and 2 tablespoons baking soda. Do not let your pretzels sit in the water or they will taste nasty. Just dip and then set on a baking sheet.
If you cover your baking sheet with parchment paper the bottom of the pretzel will not burn and it will also be easier to clean up when you are finished.
Let the pretzels rise for about 25 minutes. (notice I made my pretzels too fat, so when they rose they turned into one big lump.)
Bake in a 400 degree over for about 10 minutes. Remove pretzels from the oven and brush with melted butter. Top with coarse salt, or cinnamon and brown sugar.
Enjoy!