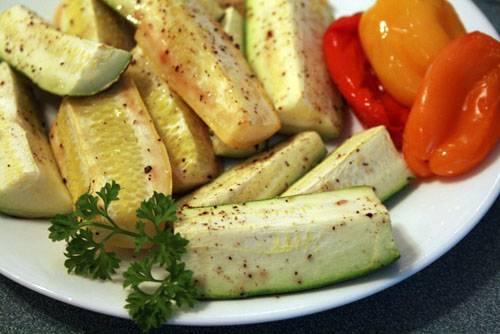 By contributing writer Dawn
Summer is the best time of year for amazing fresh vegetables, whether they are purchased from the grocery store, farmers market or home grown. One of my favorite ways to prepare them is broiled with olive oil, salt and pepper. It is a simple but satisfying side dish that even my picky children enjoy!
Print
Broiled Summer Vegetables
Ingredients
1 pound young summer vegetables such as squash, zucchini and tomatoes
4 tablespoons good quality olive oil plus additional if needed to prepare pan
salt and freshly ground pepper to taste
Instructions
Trim the vegetables and cut into one inch pieces, peeling them if preferred.
Prepare a cookie sheet by coating the bottom with olive oil.
Place prepared vegetables on pan.
Drizzle olive oil over the top of the vegetables.
Sprinkle salt and freshly cracked pepper over the top.
Broil on high about ten minutes watching carefully.
Vegetables are done when edges are toasted.
Serve hot!
Find more delicious meal ideas at the The Happy Housewife Recipe Index.