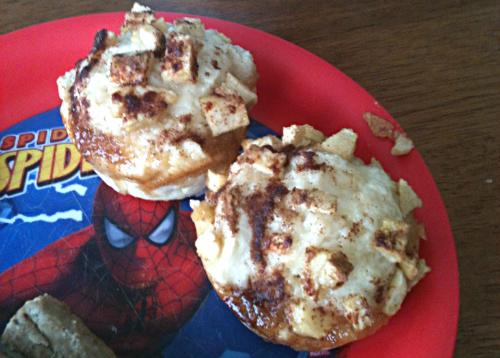 One of my readers, Jessica, sent me this variation on my brown sugar cinnamon muffins.  I think the addition of apple is a great idea.  You can mix the chopped apple with brown sugar and cinnamon or mix it with brown sugar only and let your kids sprinkle the cinnamon on top.  That's what Jessica's son likes to do!
Print
Brown Sugar Cinnamon Apple Muffins
Ingredients
1 3/4 cups flour ( I use whole wheat)
1/3 cup white sugar
2 teaspoon baking powder
1/4 teaspoon salt
1 egg
3/4 cup milk
1/4 cup canola oil (or applesauce)
1 apple
2 tablespoons brown sugar
cinnamon
Instructions
Mix together flour, white sugar, baking powder, and salt.
Add egg, milk and oil.
Mix together.
Fill muffin cups.
Peel, core, and chop the apple. Toss it with the brown sugar and some cinnamon.
Place the apple pieces on top of the batter in the muffin cups.
Bake for 18 minutes at 350 degrees.
Serve.