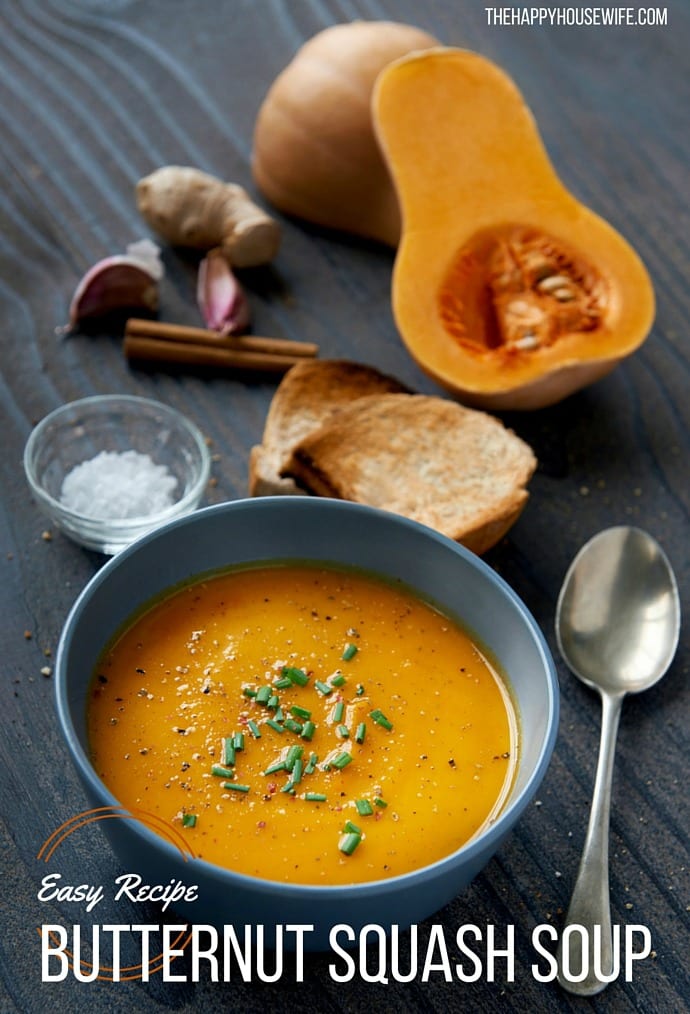 My first two recipes are soups. Soups are so cheap to make, can be made ahead of time and either frozen or stored in the fridge for several days, and warm you up on those cool fall evenings. I almost always serve my homemade soups with a loaf of fresh whole wheat bread. It costs under a dollar to make and really fills everyone up.
This soup uses fall produce to save even more money. Many people have squash growing in their gardens and the store shelves are starting to fill up with many varieties of squash. Apples are also getting cheaper which makes this soup perfect for fall!
Print
Butternut Squash Soup
Yield 4
Ingredients
3 cups butternut squash, peeled, seeded, and cubed
1 large apple, peeled and quartered
1 tablespoon butter
1/3 cup onion, chopped
1 tablespoon minced garlic
1/4 cup flour
1/4 teaspoon thyme
1/8 teaspoon salt
1 1/4 cup chicken broth
Instructions
Steam the squash and apple until soft.
While the squash is steaming, saute the onion and garlic in butter until the onion is clear.
Add the remaining ingredients to the blender and blend for 3 or 4 minutes, or until the mixture thickens.
Add the squash, apple, and onion to the blender.
Blend until smooth, less than one minute. Serve immediately.
Courses Side Dish
This soup was made in a Vitamix. It was absolutely delicious and healthy too! Don't have a Vitamix? As long as the squash and apples are really soft, any blender should work. You can also use a food processor or cook on the stovetop and mash the apples and squash with a potato masher.
Cost Breakdown
Squash $1.40
Apple $0.35
Onion $0.20
Garlic $0.05
Butter $0.05
Thyme/ Salt $0.05
Flour $0.25
Broth Free (leftover from crock pot chicken)
Total Cost $2.35 plus $1 for a loaf of bread. Serves four.