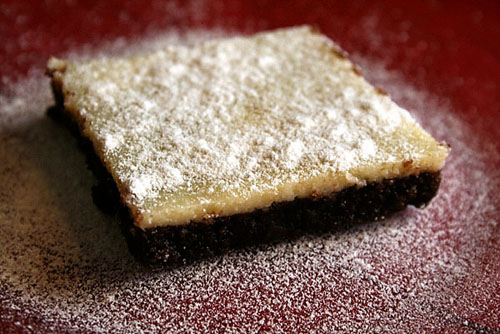 The following is a post from contributing writer Dawn.
I have been making these cheesecake brownies since college. A brownie mix can be used in place of homemade.  However, once you try these, you may never buy a mix again!
Print
Cheesecake Brownies
Ingredients
4 squares unsweetened baking chocolate
3/4 cup butter
2 cups sugar
3 eggs
1 teaspoon vanilla
1 cup flour
For the Topping
8 ounces cream cheese
1/3 cup sugar
1 teaspoon vanilla
1 egg
powered sugar for dusting, if desired
Instructions
Preheat oven to 350° F.
Prepare a 9x13 inch baking dish by lining with parchment paper, allow several inches of parchment paper to hang over each side of the pan for a handle.
Melt the chocolate and butter over medium low heat until completely melted (or on high in the microwave for 2 minutes.)
Stir in sugar.
Mix in eggs and vanilla until well blended.
Stir in flour until well blended.
Spread into the bottom of the pan.
Beat cream cheese with a mixer until smooth.
Add sugar and mix well.
Stir in egg and vanilla until just blended.
Spread the cream cheese mixture over the brownie batter.
Cut through the batter several times or swirl for a marbled effect, if desired.
Bake 35-40 minutes.
Allow to cool completely in the pan on an elevated cooling rack if possible.
When cool, lift the brownies out by the ends of the parchment paper and allow to rest on a flat surface.
Cut into squares with a pizza cutter or use a metal cookie cutter to cut into shapes.
Dust with powered sugar, if desired.
Find more delicious dessert ideas at the The Happy Housewife Recipe Index.