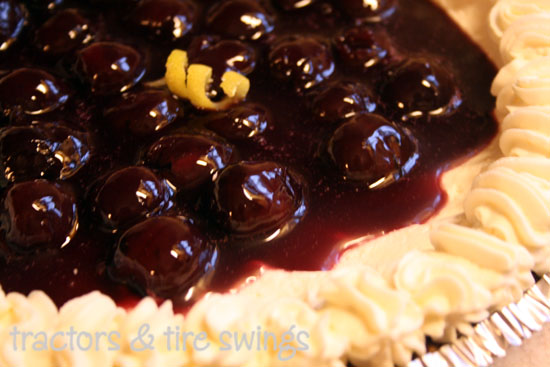 The following is a post from Dawn at tractors & tire swings. 
My mother is a diabetic so growing up, we did not have dessert in the house. This was one of the few sweet recipes she passed on to me when I left home. This recipe makes two pies and because my family loves it so much, I only make it when we can take one somewhere else and not be tempted to eat both of them in one day.
This recipe is pretty versatile. My mom made it with a graham cracker crust, artificially-colored cherry pie filling, and frozen whipped topping. I have made a few changes to meet our dietary needs and make it a bit healthier but feel free to substitute ingredients if you desire.
For best results, make this pie the morning of the day it is to be served. Chilling it several hours allows the flavors to blend and the filling to set. The crust softens overnight, but it is still delicious (if there are any leftovers).
Print
Cherry Cheese Pie
Ingredients
15 ounce can Oregon Brand Sweet Cherries in Heavy Syrup
1/4 cup sugar
1/4 cup corn starch
1/8 teaspoon almond extract
2 cups heavy whipping cream
4 tablespoons sugar
2 teaspoons vanilla extract
2 chocolate cookie pie crusts
8 ounces cream cheese, softened
1/2 cup powered sugar
1 tablespoon lemon juice
Instructions
Drain the cherries, reserving juice. Combine cornstarch and sugar in a heavy saucepan. Slowly add reserved cherry juice and whisk until thoroughly combined. Cook juice mixture over medium heat until very thick. Remove from heat and allow to cool completely. Add the cherries and almond extract and stir gently to combine. Set aside.
Chill a metal mixing bowl and beaters for thirty minutes before making your homemade whipped cream. Place 3 tablespoons of sugar in the bottom of the bowl and slowly add the whipping cream. Turn the mixer on it highest setting you can without the cream splashing. When the cream begins to thicken, gradually increase the speed. The cream is whipped when the soft peaks bend over just a little.
Place softened cream cheese in a large mixing bowl. Mixing slowly, sprinkle powered sugar as the mixture creams together. Add lemon juice and mix well. Turn off mixer and fold in whipped cream mixing only until blended.
Divide the whipped cream evenly between the pie crusts, making a well in the bottom center of the pan of each pie. Divide the cherry filling between each pie leaving a swirly edge surrounding the pie. Garnish with additional filling or whipped cream as desired.
This pie needs to be made the morning it is served it for best results. Chilling it several hours allows the flavors to blend and the filling to set.