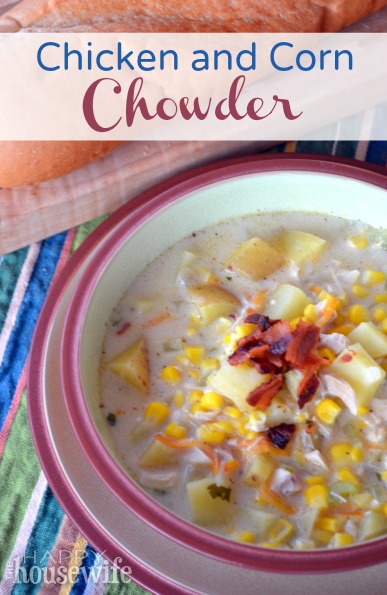 By contributing writer Kristia
Chicken & Corn Chowder is chunky and hearty and warms the soul during these cold winter months. It's easy to prepare and is a great way to use leftover cooked chicken. Serve it with homemade artisan bread.
Print
Chicken & Corn Chowder
Ingredients
5 strips of bacon
1 small carrot, chopped fine
2 celery stalks, chopped fine
1 small onion, chopped fine
2 garlic cloves, minced
¼ cup flour
4 cups of chicken stock, divided
1 16-ounce bag of frozen corn
2 cups chopped, cooked chicken
3 medium yukon gold potatoes
1/2 teaspoon each of salt & pepper
2 cups milk
Instructions
In a large soup pot, cook 5 strips of bacon until crisp. Remove bacon and set aside, but leave the bacon drippings.
Add the carrot, celery, onion, and garlic to the pot. Stir and cook in the bacon fat until softened.
In a small bowl, combine the flour with 1 cup of chicken stock. Pour into the soup pot and stir well.
Add 3 cups of chicken stock, corn, chicken, potatoes, salt, and pepper. Stir and bring to a simmer.
Add the 2 cups of milk. Stirring constantly, bring the soup to a boil. Reduce to a simmer and cook until potatoes are tender, about 20 minutes.
Top each serving with crumbled cooked bacon.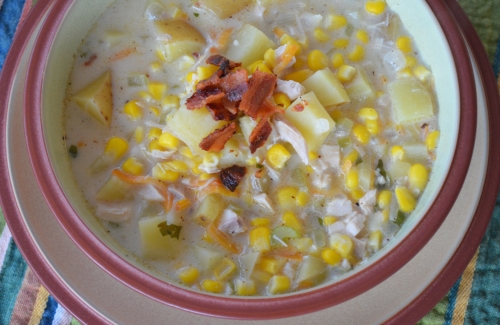 More from The Happy Housewife