True story:
The first time I heard about chicken and waffles was from Rhett and Link's Roscoe's Chicken and Waffles song on youtube. Honestly, I thought it sounded a bit gross. I like waffles and I like fried chicken- but waffles are made for syrup and fried chicken is made for mashed potatoes and biscuits- they aren't made for each other.
Then last February I was in Atlanta and a group of us decided we wanted a "southern restaurant" experience so we headed to Gladys' Knights Chicken and Waffle restaurant.  I'm not a real adventurous eater when I'm traveling so I stuck with a sandwich while everyone around me tried the chicken and waffles.
I was intrigued but not enough to try it.
This week I've been challenged to come up with seven different waffle recipes and since I didn't want them all to be desserts I thought it was time to try chicken and waffles, but with a Happy House twist. Since the mini bacon egg and cheese sandwiches were such a huge hit I decided to try some mini chicken and waffle sandwiches.
Ingredients
12 Eggo Minis waffles
6 white meat chicken nuggets
2 Tablespoons BBQ sauce
3 Tablespoons apricot preserves
Instructions
Cook nuggets according to package directions.
Toast the waffles.
While the waffles are toasting mix together BBQ sauce and preserves over a low heat.
Place one nugget on a mini waffle.
Drizzle with sauce.
Top with another mini waffle.
Serve.
https://test.thehappyhousewife.com/cooking/chicken-and-waffle-minis/
My kids loved these mini sandwiches. They ate every single one of them and asked me to make more. It's funny because my kids don't like sandwiches, but so far everything I've served on a waffle has been a huge hit!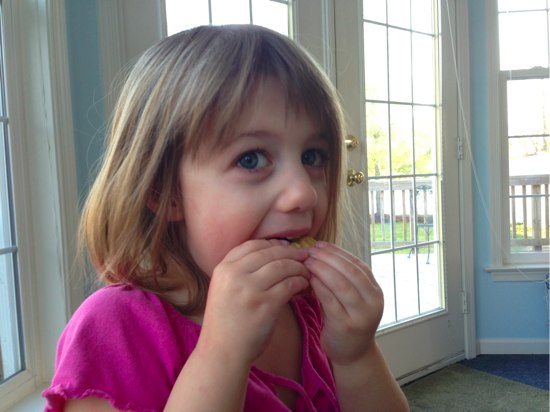 You can make these a healthier by making your own nuggets. My friend Amy from Mom Advice has a great crispy baked chicken recipe on her site.
Do you have a great waffle recipe? Head over to the Eggo Facebook page and enter your recipe creation in The Great Eggo Waffle Off!