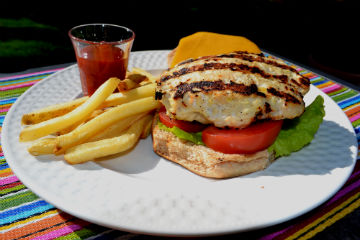 The following is a post from contributing writer Andrea Green.
Memorial Day weekend is right around the corner, which means grilling season is right around the corner too. Instead of the same, tired burgers, why not whip up these delicious chicken apple burgers?
Print
Chicken Apple Burgers
Ingredients
4 boneless, skinless chicken breasts
1 tart apple
1/2 onion
1 tablespoon Dijon mustard
olive oil
Instructions
Using the shredding blade of the food processor, shred the chicken breasts, apple and onion.
Stir in the Dijon mustard.
Preheat the grill to medium high.
Shape the chicken mixture into six large patties. Brush each side of the chicken patties with olive oil.
Grill chicken patties for 4 - 5 minutes per side.
Notes
This recipe calls for a food processor. If you don't have a food processor, you can buy ground chicken. However, the ground chicken you buy in the store has a tendency to be sticky, so make sure you grease your grill well.
Find more delicious meal ideas at the The Happy Housewife Recipe Index.