Last year when I was losing weight and getting fit I made some drastic changes to my diet for a few months to give me a kick start. One of the big changes I made was eating either chicken or fish every day for lunch. I usually ate a carb heavy lunch (sandwiches, pasta) so this was a challenge for me to come up with quick and simple meals every day.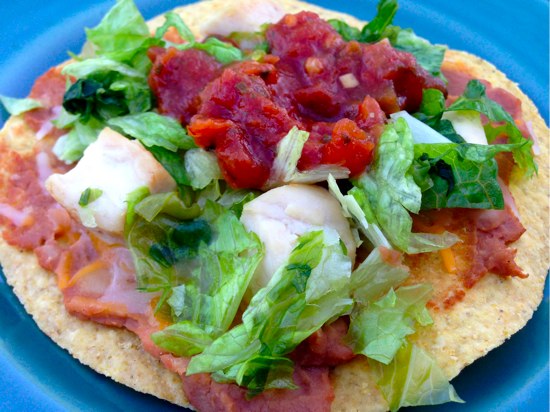 One of my favorite things to do was to use chicken as a topping on some of my favorite meals. We eat open tacos (or tostadas) frequently so it was simple to just add chicken to make  it a full meal.
Print
Chicken Tostadas
Ingredients
Tostadas
Vegetarian refried beans
Tyson® Grilled and Ready® Chicken
Shredded cheddar cheese
Chopped lettuce
Salsa
Instructions
Spread refried beans on the tostada.
Add chicken and cheese.
Bake in a 325 degree oven for 5-7 minutes or until the cheese is melted.
Top with shredded lettuce and salsa.
Courses Main Dish
I love using Tyson® Grilled and Ready® Chicken because it tastes great and it since it is already fully cooked the recipe comes together in less than 15 minutes.
One of my biggest challenges was and still is, getting enough protein in my diet. What I like about the Tyson® Grilled and Ready® Chicken is that you can toss this all white meat chicken into any of your favorite meals even when you are in a hurry or on the go.
To make this recipe even lower calorie make it a tostada-less tostada! Substitute the refried beans for black beans and serve it on a bed of lettuce or brown rice. So delicious, filling and healthy!
Disclaimer: I was challenged by Tyson to come up with a recipe using 600 calories or less using their Tyson® Grilled and Ready® Chicken. For more information visit their website. All opinions and recipes are my own.