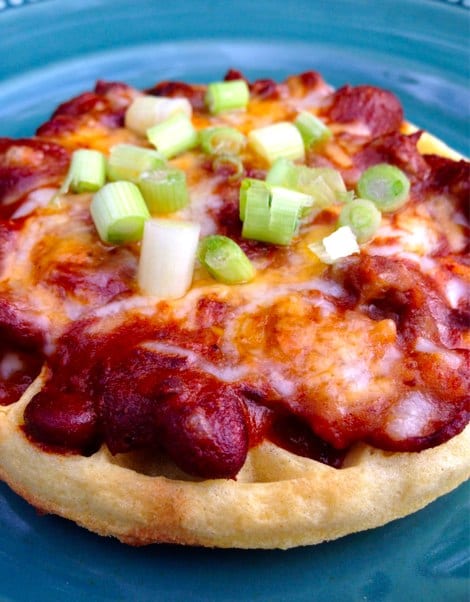 Fall means football, and football means some yummy, fun snack time food to share with family and friends. This week's waffle challenge was football inspired food and chili immediately came to mind.
Every year, the coming of fall brings us one of our favorite events, a chili cook-off. We head over to see friends in West Virginia and spend the day taking hay rides, visiting with friends, and of course eating way too much chili.
One of my favorite ways to eat chili is on waffle fries, so I decided I would try chili on a waffle and I wasn't disappointed!
Print
Chili Cheese Waffles
Ingredients
Eggo Waffles
Favorite Chili Recipe
Shredded Cheddar Cheese
Green Onions
Ranch Dressing
Instructions
Toast waffles according to directions on the package.
Place waffles on a cookie sheet.
Top with chili, cheese, and green onions.
Bake in a 350 degree oven until cheese is melted.
Serve with ranch dressing on the side.