My husband is not a big fan of shrimp but I love it. I especially love it with a little kick. If you love shrimp, you'll want to try this recipe for Chili Lime Shrimp served over a bed of rice noodles along with corn and avocado. Just remember, you need to marinate the shrimp for at least an hour. So give yourself a little bit of extra time if you are making this for dinner.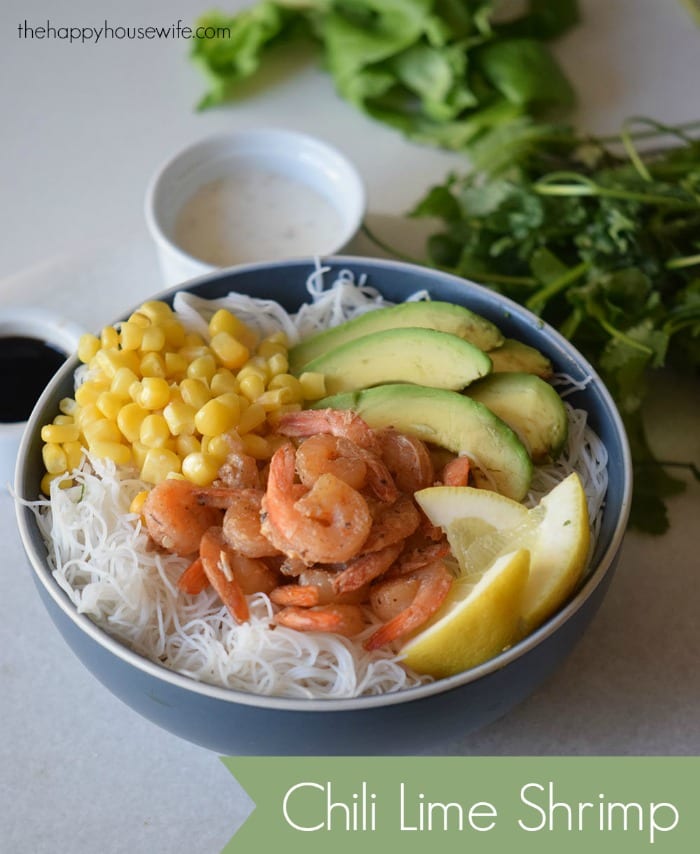 Print
Chili Lime Shrimp
Yield 4
Ingredients
1 pound raw shrimp
2 teaspoons chipotle powder
1 tablespoon vegetable oil
2 teaspoons salt, divided
1 teaspoon lemon juice
½ package rice noodles, cooked
1 cup corn, cooked
2 lemons, sliced into fourths
2 avocados, sliced
Instructions
In a bowl, mix chipotle powder, vegetable oil,1 teaspoon salt, and lemon juice.
Add the shrimp and mix them with the marinade. Cover the bowl and refrigerate for 1 hour.
Heat a saucepan over medium heat and cook the shrimp until they turn pink.
Place the noodles in bowls, top with shrimp, corn, avocado, and lemon slices.
Notes
You can swap the rice noodles for quinoa or rice.