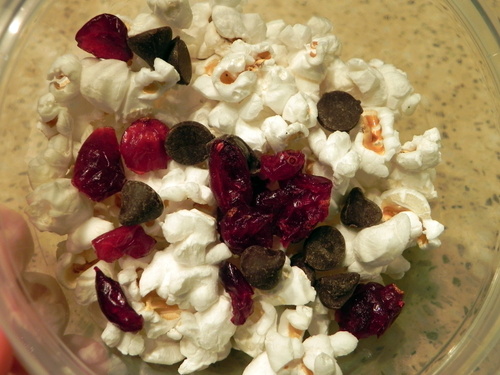 By contributing writer SnoWhite.
This delicious snack is filling, sweet & salty!  Perfect for after school or a movie night!
Print
Chocolate Craisin Popcorn
Ingredients
3 cups popped popcorn
1/2 cup dried craisins
1/4 cup dark chocolate chips
Instructions
Begin by popping up your popcorn using your favorite method.
Place popcorn in a large bowl.
Toss in crasins and chocolate chips.
Notes
If you make homemade popcorn, be sure to add enough salt - the sweet, salty combo is the best!*Allow the popcorn to cool down just a bit before adding the chocolate chips - otherwise you'll have melted chocolate! Still tasty... but a bit more messy!
Find more delicious meal ideas at the The Happy Housewife Recipe Index.