By contributing writer Andrea Green
Gingerbread season is my absolute favorite season of the year! I love early November when I start seeing gingerbread flavored everything on the store shelves. As soon as November 1st hits, I make up my Homemade Gingerbread Latte Syrup and use it liberally in my coffee.
Then, I start baking. Chocolate Gingerbread Scones are one of my favorite gingerbread indulgences. Rich dark chocolate, ginger, and molasses pair up wonderfully to make a delicious seasonal treat. They are absolutely perfect for breakfast and make a pretty tasty after school snack as well.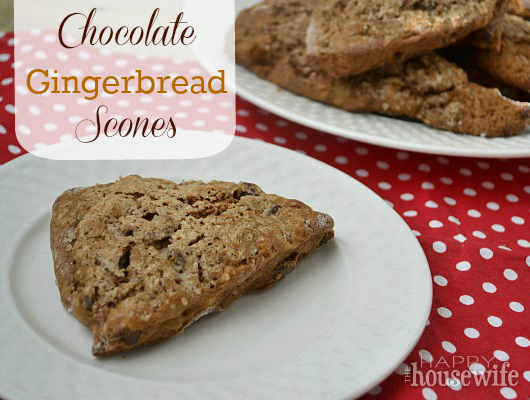 I don't stop my gingerbread splurge until the New Year hits. Then I wait until the next gingerbread season to get my fix!
This chocolate gingerbread scone dough makes 16 good sized scones. If you don't think you can go through that many scones, this dough can be frozen.
To freeze, place unbaked scones on a cookie sheet lined with parchment paper. Once the scones are hard, transfer them to a freezer safe bag. They can remain frozen for up to one month. When you are ready for hot, fresh Chocolate Gingerbread Scones, simply remove from the freezer and bake adding 3 to 4 minutes to the bake time.
Having chocolate gingerbread scones in the freezer can mean a quick and easy Christmas breakfast. So make some up now so you can wake up to gingerbread-goodness in the upcoming weeks!
Print
Chocolate Gingerbread Scones
Ingredients
2 1/2 cups whole wheat pastry flour
1 cup unbleached all purpose flour
1/4 cup sugar
1 teaspoon baking soda
1 teaspoon baking powder
1/2 teaspoon salt
1 1/2 tablespoons ground ginger
1/2 cup cold butter
1 1/2 cups dark chocolate chips
1/4 cup molasses
1 large egg
1 cup buttermilk
1 teaspoon vanilla
milk
coarse sugar (like sugar in the raw)
Instructions
Preheat the oven to 375 degrees. Line two baking sheets with silpat or lightly grease.
In a large bowl, whisk together flours, sugar, baking soda, baking powder, salt, and ginger.
Using a fork or pastry blender, cut the butter into the dry ingredients until the mixture resembles coarse crumbs. Add the chocolate chips and stir with a fork just to mix them in.
In a separate bowl, whisk together the molasses, egg, buttermilk and vanilla.
Add wet ingredients to the dry ingredients and stir lightly and quickly with a fork until the dough is evenly moistened.
Turn the dough out onto a floured work surface. Divide the dough in half and pat the dough into 2 circles of equal size. Use a knife and cut each circle into 8 equal pieces.
Transfer the scones to baking sheets. Brush the tops with milk and sprinkle heavily with coarse sugar.
Bake for 22 to 25 minutes.
Courses Breakfast
More Breakfast Recipes