The following is a post from contributing writer Brandy.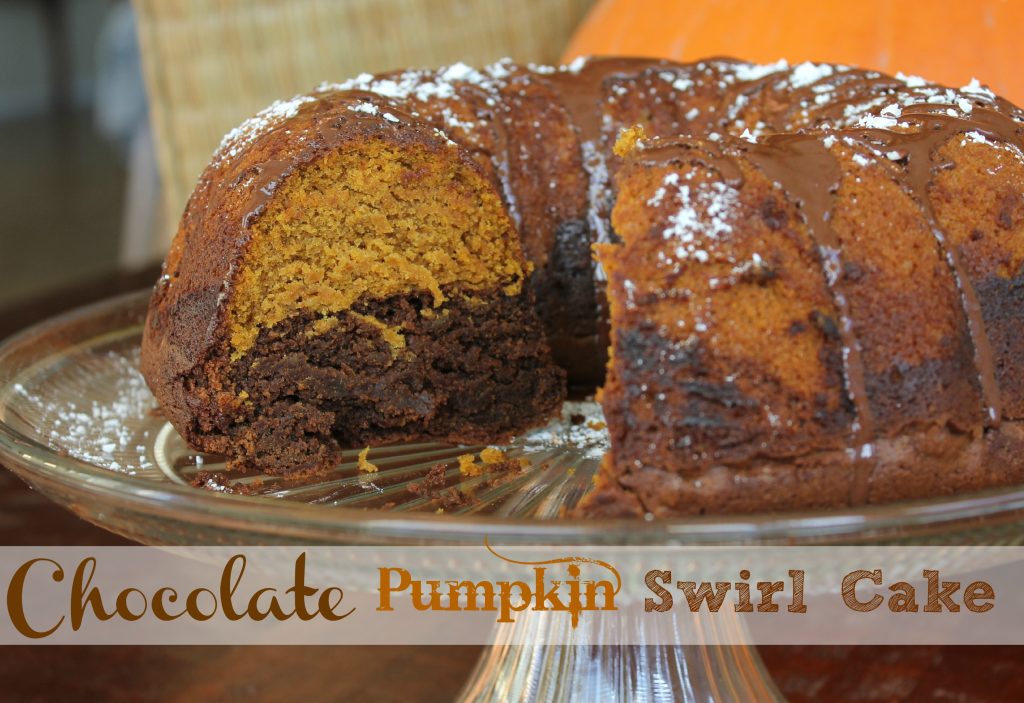 This cake is moist and delicious, with just the right amount of pumpkin and just the right amount of chocolate!  Something different, it's perfect for the holidays.
To make yours decadently moist, remember to layer the batter:  pumpkin, then chocolate, then more pumpkin.  Then, give the pan a few good "twists" to swirl the batter together.
Happy baking!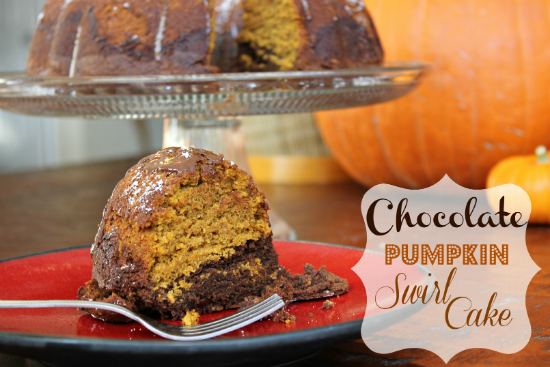 Print
Chocolate Pumpkin Swirl Cake
Ingredients
2 1/2 cups flour
1 teaspoon baking soda
1 teaspoon baking powder
1/4 teaspoon salt
2 teaspoons cinnamon
1/2 teaspoon nutmeg
1/4 teaspoon ground cloves
3/4 cup unsalted butter
1 cup sugar
1 cup brown sugar
2 teaspoons vanilla
2 eggs
1 15-ounce can pumpkin
1/3 cup milk
1 cup semi-sweet chocolate chips
Instructions
Combine flour, baking soda, baking powder, salt, cinnamon, nutmeg, and cloves in mixing bowl.
Mix in sugar, brown sugar, vanilla, eggs, and butter.
In a separate bowl, mix pumpkin and milk together, then add to other ingredients in mixing bowl.
Mix til well combined.
Pour half of batter into bowl, and set aside.
Melt the chocolate chips (in microwave or double boiler) and add to pumpkin batter in mixing bowl, and mix again.
Grease bundt pan and pour in half of plain pumpkin batter. Then pour in the chocolate batter. Pour the remaining pumpkin batter over the chocolate batter. Give the pan a few good "twists" to swirl the batter together.
Bake at 350 for about 50 minutes or until done.
Dust with powdered sugar, or drizzle with more melted chocolate.
Courses Dessert