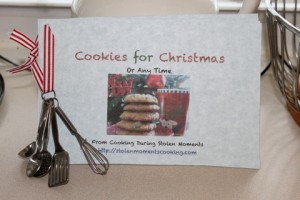 My friend Kate from Stolen Moments Cooking is giving away her Cookies for Christmas ebook. The Cookies For Christmas ebook features 24 of her favorite cookie recipes from Stolen Moments Cooking that are perfect for Christmas (or any time) baking.
Even better, the book is arranged to make it perfect for gift giving. Each page contains two recipes and a small photo. You can print out this book and include with a basket of homemade goodies or a fun kitchen gadget.
Stolen Moments Cooking is one of my favorite recipe sites on the web and the recipes are always delicious! To find out how you can get a copy (of course you can print several copies) of the Cookies for Christmas ebook visit Stolen Moments Cooking.