Being able to cook is a valuable life lesson that kids should learn.  Have you put off teaching your kids to cook because you're not sure where to start?  Are you unsure about how to teach your kids to cook?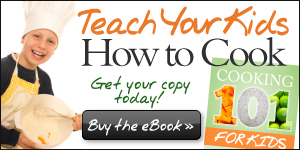 Cooking 101 for Kids was written by my friend Lynn of Lynn's Kitchen Adventures.
The eBook covers how and what to teach your kids.  It includes pictures of kitchen tools and ingredients to help them learn.  It also includes links to videos that you and your child can watch.  The videos show her kids performing basic cooking tasks.
The last part of the book contains kid friendly recipes that are easy to make.
This book will help you teach your kids about:
Measurements
Tools and Common Ingredients
How to Follow a Recipe
How to Make Breakfast
Snacks, Appetizers and Side Dishes
Desserts and Treats
The book sells for $4.99, but as readers of The Happy Housewife, you can enter the code HAPPY  to receive $2 off.  $2.99 is a small price to pay for an important life lesson.