By contributing writer Dawn.
In our family of four, we have two breakfast eaters and two breakfast skippers. In an attempt to find something that my youngest child (and husband) would eat, I pondered the idea of creating a healthier version of one of their favorite foods – dessert!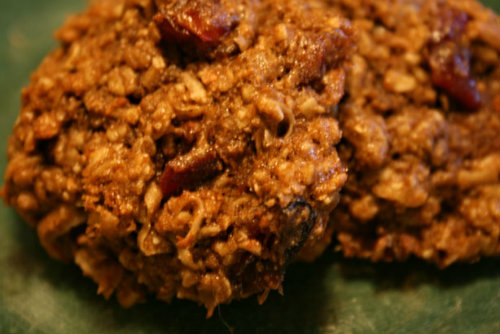 This recipe was created over time as an alternative to granola.  We tweaked and tweaked until we found a blend of ingredients that satisfied everyone.   The portability makes it easy to grab as we head out for an early appointment or for a filling snack following an afternoon activity.
Print
Cranberry Coconut Breakfast Cookies
Yield 4 dozen
Ingredients
1 cup butter, softened
1 cup brown sugar (I use rapudura)
2 eggs
3 tablespoons unsulfured molasses
1/2 cup buttermilk
1 cup whole wheat flour
3/4 teaspoon baking soda
1 1/2 teaspoons salt
1 1/2 teaspoons cinnamon
2 cups rolled oats
1 1/2 cups dried cranberries
1 cup unsweetened shredded coconut
1/2 cup finely chopped almonds
2 teaspoons pure vanilla extract
Instructions
Preheat oven to 375 degrees.
Beat butter and sugar until well blended.
Then add eggs, molasses and buttermilk.
In a separate bowl, combine dry ingredients except fruit and oatmeal and mix well.
Gently blend dry into wet.
Fold in oats and fruit. Lastly, stir in vanilla.
Using a 1-inch scoop, drop large tablespoons onto prepared cookie sheet or baking stone.
Bake at 375 degrees for 10 to 12 minutes.
Courses Breakfast
Find more delicious meal ideas at the The Happy Housewife Recipe Index.