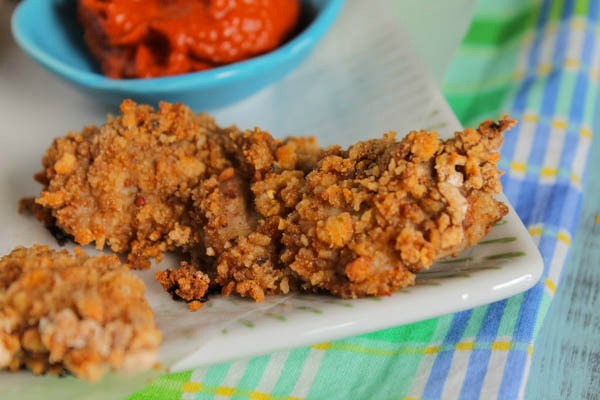 By contributing writer Tessa
I am not sure what it is about chicken fingers and nuggets that kids go nuts over, but the vast majority of kids seem to relish in this simple meal!  When we first had to cut out so many foods, I had to get pretty creative with my homemade version of healthier chicken nuggets.
Whether gluten is a problem for you or not, there are loads of fun breading options out there (all of which could be subbed one to one in this recipe):
Homemade bread crumbs – Keep the end pieces of any dry crumbly gluten-free bread, such as the heels.  I have used some baking mishaps here too.  Just whir the bread chunks in a high powered blender or food processor, and you have fresh bread crumbs ready to go.  Just be sure to store them in the freezer because the moisture is still in them and they will mold.
Crunched up gluten free cereals –  Use cereal such as Rice Chex, Rice Crispies, or corn flakes. Crunch them up by hand (inside a bag) or in a food processor.
Your own simple flour & spice mix – Any all-purpose gluten free flour will do, but I usually prefer brown rice, sweet rice, or regular rice flour for breading.
Crunched up gluten free crackers 
Store bought gluten free bread crumbs – These are super expensive generally, which is why I avoid them.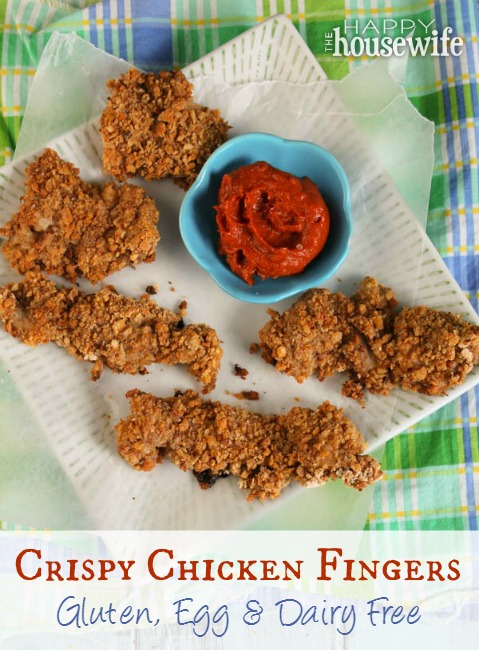 If you would like to see a pan-fried version using Rice Chex, check out my Panko Crusted Chicken!
Print
Crispy Chicken Fingers - Gluten, Egg, & Dairy Free
Yield 4
Ingredients
1 pound boneless chicken (thighs or breasts), cut into desired pieces
1 cup unsweetened milk substitute
2 teaspoons apple cider vinegar or lemon juice
1 teaspoon salt
Tabasco (optional)
Breading
2 cups gluten free breadcrumbs (see options above)
½ cup tapioca flour
1-2 tablespoons Salt-Free Cajun seasoning OR 1 tablespoon Hungarian paprika (If your seasoning contains salt, omit the extra salt below, and use half the amount of Cajun seasoning)
2 teaspoons garlic powder
1 teaspoon salt
2 teaspoons oregano or thyme
Allowed butter, oil, or cooking spray
Instructions
Create a pseudo buttermilk by mixing your milk of choice with the apple cider vinegar or lemon juice. (You can sub regular buttermilk if you like.)
Mix the 'buttermilk' salt , and Tabasco together in bowl or Ziploc bag large enough to accommodate your chicken.
Add the chicken and brine for 1-2 hours
Preheat your oven to 400 degrees.
Combine all the breading ingredients and remove the pieces from the brine, dredging each piece and pressing down for a thorough coating.
Place coated pieces on a greased cookie sheet.
Lightly spray the top of each piece with cooking spray so that the breading is lightly moist., or drizzle some melted butter or oil over each piece.
Bake at 400 degrees for 20-30 minutes until crispy and golden brown. How long this takes will depend on your chicken piece size.
Notes
Brining is a great step for adding flavor to otherwise bland meat pieces. You could forgo the brine and just dip the chicken in the buttermilk for a quicker version.This general technique can be used with any food such as shrimp or drumsticks.
Courses Main Dish
 You might also like…