I've partnered with The Pork Council this year to share delicious pork recipes and money saving tips. All opinions are my own. 
Did I tell you about the time I made dinner for eighty people? It isn't something I do every day, but when my husband was promoted a few years back I decided that I should cater the meal myself. I don't know if I'll ever attempt that again, but I did learn that BBQ pork in the crock pot is one of the easiest make ahead meals out there and it is very inexpensive!
When I'm cooking for a big group (either eight or eighty) I like to find inexpensive but delicious options and pork is a great choice.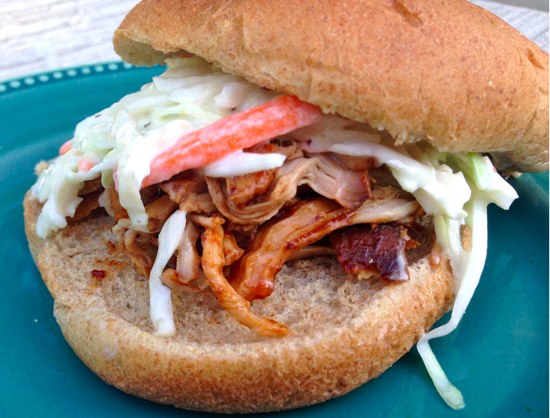 I crave BBQ the entire summer. Whether it is chops, ribs, or roasts I want it covered in BBQ sauce! On busy summer days I turn to my go-to kitchen tool the crock pot! I love starting dinner before breakfast and then only spending a few minutes in the evening getting everything together.
Not only is this crock pot recipe easy, everyone loves it! A few weeks ago I had a delicious BBQ pork sandwich at a restaurant and couldn't wait to replicate it at home. Even if you aren't a fan of coleslaw try it! It was amazing!
Print
Slow Cooker BBQ Pork Sandwiches
You can make the pork ahead of time in the crock pot and store in the fridge or freezer. Just reheat and serve!
Ingredients
Boneless pork roast
BBQ sauce
Hamburger buns
Coleslaw
Instructions
Put boneless pork roast in the crock pot and add the entire bottle of BBQ sauce.
Cook on low for 8-9 hours or until it reaches an internal temperature of at least 145 degrees and shreds easily with a fork.
Shred roast with a fork.
Place on bun and top with coleslaw.
Serve.
We added baked beans and a side salad for a complete meal under $10 for our family of nine!
Pork is getting a makeover this summer so look for these name changes in the meat case.
Porterhouse Pork Chop (Previous name: Loin Chop)
Ribeye Pork Chop, Bone-In (Previous name: Rib Chop Center)
Ribeye Pork Chop (Previous name: Rib Chop)
New York Pork Chop (Previous name: Top Loin Chop)
Don't forget you can grill pork or slow cook it just like steak or beef roast so give it a try this summer!
I've created a Pinterest board of some of my favorite pork recipes (and a few I still want to try) so check it out!
Visit PorkbeInspired.com for more recipes under $10 and to enter the Pork Chop Drop game on Facebook, where they are giving away $1000!