In keeping with my "turn off the oven week" theme, I am sharing with you a delicious dessert recipe, Crockpot Berry Cobbler, from my friend Snow White, who blogs at Finding Joy in My Kitchen.
Hi, I'm Snow White… affectionately given that name by my hubby, Frog Prince, for my love of all things household.  Frog Prince and I are still newlyweds and we're both finishing up graduate degrees — me in plant ecology and Frog Prince in educational measurement.  Together, we found a passion in cooking and have since enjoyed our time in the kitchen.  Our meals fit our dietary needs (we both have food allergies) and strive to be easy to prepare, healthy, well-balanced, in our budget and made with ingredients that we can use in multiple recipes.  Recently, we've enjoyed trying desserts in our crockpot, which has been a huge help in the warm summer months in our tiny apartment kitchen!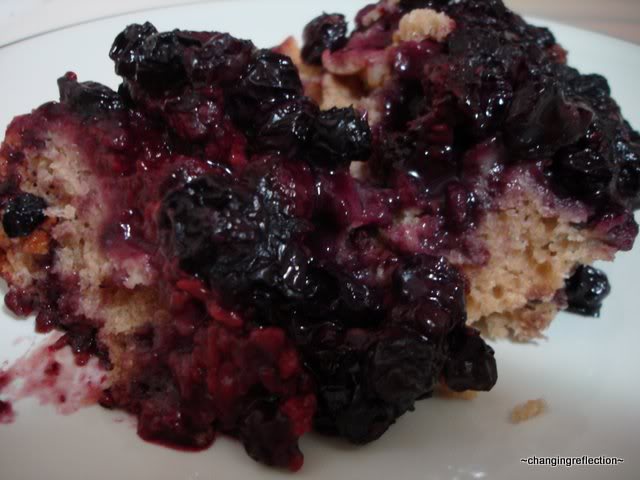 Print
Slow Cooker Berry Cobbler
Yield 6
Modified from Fix-it and Forget-it Cookbook
Ingredients
1 1/4 cup flour, divided (I used 1/2 C wheat, 3/4 C white)
2 tablespoons + 3/4 cups sugar, divided
1 teaspoon baking powder
1/4 teaspoon cinnamon
1 egg white, lightly beaten
1/2 cup skim milk
2 tablespoons olive oil
dash, salt
2 cups raspberries (fresh or frozen; thawed and drained if frozen)
2 cups blueberries (fresh or frozen; thawed and drained if frozen)
Instructions
Combine 1 C flour, 2 T sugar, baking powder and cinnamon.
Stir to mix well.
In another bowl, combine eggs (oops… I didn't quite get the yolk and white to separate!), milk and oil.
Stir into dry ingredients until moist. Batter will be thick.
Spray the slow cooker with cooking spray, and spread the batter evenly along the bottom of the crockpot.
Wash and drain berries.
In another bowl, combine salt, remaining flour and sugar and stir to combine.
Toss in the berries and stir to coat.
Spread berries over the batter.
Cook on high for 2-2.5 hr or until a toothpick comes out clean.
Notes
This recipe is ideal for a 5 qt crockpot. I made it in mine, which is only a 3 qt, and it worked out just fine.One serving is ~260 cals, 4.5g of fat and 3g protein.