I have to admit, I'm always looking for mark downs on salad mixes. It is one of those items I love, but I hate paying full price.
Here's a great coupon for Dole Salad Blends. Save $1 when you buy 1 pack. This is a Winn Dixie coupon and currently they are on sale 2/$5. Remember to look for clearance salad bags for additional savings.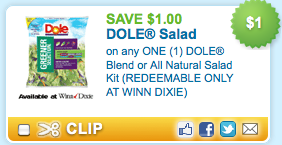 If you can't find the coupon on Coupons.com use the zip code 32701, it should show up at the top.