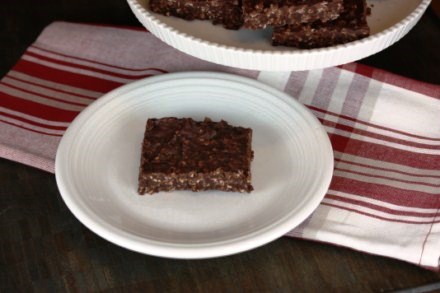 By contributing writer Lynn.
Summertime means hot weather and hot weather means that I do not like to do anything that heats up my kitchen unnecessarily. So, I am always looking for quick and easy recipes, especially for desserts, that do not require an oven.
The recipe I have for you today is a fun and delicious take on a no bake cookie. It is quick and easy to make and does not use the oven.
Print
Double Chocolate No Bake Cookie Bars
Ingredients
1 1/2 cups sugar
1/2 cup butter
1 5-ounce can evaporated milk
1 1/2 cups semisweet chocolate chips
1 box instant chocolate pudding (4 serving size, dry mix only)
1 teaspoon vanilla
2 1/2 cups quick cooking oats
Instructions
In a large pan combine sugar, butter, and evaporated milk. Cook and stir until mixture comes to a full boil.
Remove the pan from the heat and stir in chocolate chips and dry pudding mix. Stir until the chips have melted.
Stir in the vanilla and oats until well combined.
Spread the mixture onto a jelly roll pan or a cookie sheet with sides. I use an 11x14 inch pan.
Refrigerate until cookies are set. Cut into bars.
Courses Dessert
Find more delicious meal ideas at the The Happy Housewife Recipe Index.