This recipe was adapted from the Tate's Bake Shop cookbook. I saw this double decker brownie recipe and had to try it. It might seem a little complicated, but it really is very basic, and the results are totally worth it!  I thought this was a perfect way to end our Bloggy Progressive Dinner week.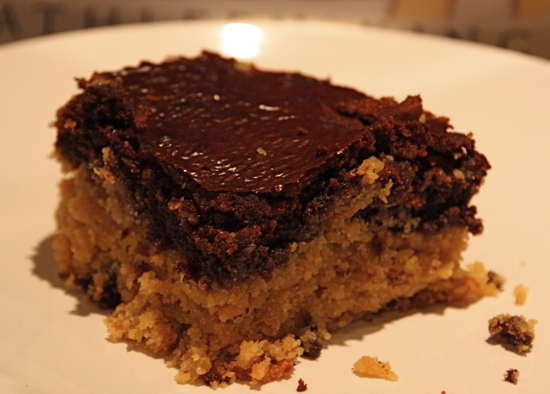 Print
Double Decker Brownies
Ingredients
Bottom Layer
1 cup sifted all-purpose flour
1/2 teaspoon baking powder
1/8 teaspoon baking soda
1/2 teaspoon salt
1/3 cup melted butter
1 cup packed brown sugar
1 egg
1 tablespoon vanilla extract
1 cup milk chocolate chips
Top Layer
3/4 cup all purpose flour
1/4 teaspoon baking soda
1/4 teaspoon salt
2 cup milk chocolate chips
1 teaspoon vanilla
1/3 cup butter
2/3 cup granulated sugar
2 tablespoons water
2 large eggs
Instructions
Bottom Layer Instructions
Mix together flour, baking powder, baking soda, and salt.
Melt butter.
Add brown sugar and vanilla to the melted butter.
Allow mixture to cool slightly and mix in the egg.
Combine butter mixture with flour mixture.
Mix together until combined.
Mix in chocolate chips by hand. (Using a mixer will break-up the chocolate chips)
Press into a greased 9×13 pan.
Top Layer Instructions
Mix together flour, baking soda and salt.
In a separate bowl, mix together chocolate chips and vanilla.
Melt butter, then add sugar and water to the melted butter and bring to a boil.
Pour the butter mixture over the chocolate chips and stir until the chips are melted.
Mix together the melted chips and the flour.
Finally, mix in the 2 eggs.
Pour over the bottom layer in the 9×13 pan.
Bake at 350 degrees for 30 minutes. Do not over bake.
Cool slightly, then serve.