The following is a guest post from Mandi.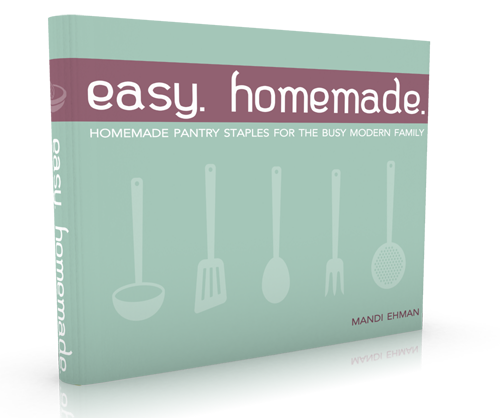 This week I'm excited to release my brand new ebook, Easy Homemade: Homemade Pantry Staples for Busy Modern Family
, which is on sale for just $0.99!
While the theme of my ebook is easy homemade, with an emphasis on the easy for those of us who are already feeling pulled in a million different directions, I'd be lying if I told you that it didn't take any extra time to make homemade pantry staples.
It does take extra time, but the good news is it's probably not nearly as much time as you fear, and – even better – there are a several ways to make the most of your time so that you're not having to start dinner preparations hours in advance or rushing to get dinner on the table only to realize you haven't yet made a key ingredient.
Here are some of the strategies I use to keep my kitchen stocked with pantry staples so that they're ready when I need them!
Menu Plan: Some of you are shaking your heads in despair because you're really trying to avoid menu planning, but I promise you it's worth the little bit of time you invest to know what you need ahead of time! I use Plan to Eat regularly, and it truly is a sanity saver.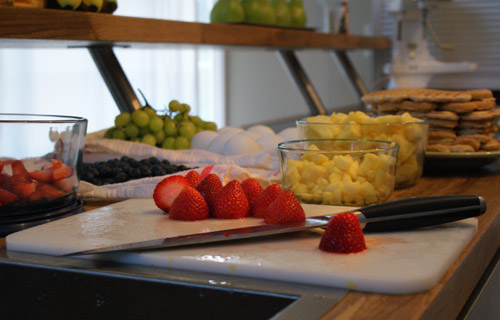 Set Aside a Prep Day: The best thing I do for my own personal sanity is to set aside time each week to prepare sauces, condiments, dry mixes and snacks ahead of time. I even cut up fruits and veggies so that food prep doesn't take a lot of time in the midst of our busy week! My goal is to use Sundays for this, which I hope will be easier as our crazy summer comes to a close and the NFL season starts, which always makes for relaxing Sunday afternoons!
Make Larger Batches: While some things need to be made fresh, many homemade staples can be made in advance, including baking mixes, most condiments and other sauces. I'll often make a large batch of pasta sauce and freeze several jars worth so that I can just pull them out as I need them rather than having to make a fresh batch every week.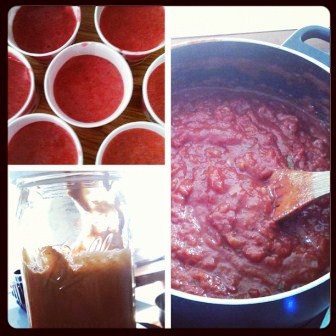 Check Your Menu Each Day: Which brings me to my final tip: be sure to check your menu each morning. It doesn't do you any good to make extra pasta sauce if it's all frozen when you need it! Although you can thaw it pretty easily in a pot of water on the stove or in the microwave, it's those kind of frustrations that make me want to give up.
When I think about dinner preparation in the morning, I'm able to pull things out of the freezer ahead of time so they have plenty of time to thaw. It also helps me set my expectations for dinner prep so that I'm not rushing around frustrated that I have to make something I might have otherwise been able to pour out of a jar or can!
Discover more than 60 recipes for homemade kitchen staples in Easy Homemade, which is available for your Kindle, Nook or a full-color PDF to read on your computer for just $0.99 this week only!
PLUS, the first 100 readers to use coupon code HAPPY100 will get a FREE PDF copy of the ebook. But even if you miss that code, you can pick up your copy – including several great bonuses – for just $0.99!
Click here to get your copy today.
You'll also find me sharing more about the what, why and how of homemade pantry staples at these great blogs:
Mandi Ehman lives in wild, wonderful West Virginia with her husband of ten years and four beautiful, spunky little girls. As a full-time work-at-home, homeschooling mom, she runs Life Your Way, a site that blends intentional and creative living, and Jungle Deals & Steals, where it's all Amazon, all the time.