The following post is from contributing writer Kristia.
Christmas morning is a whirlwind of activity at my house, and I don't want to miss a single minute of it. So instead of standing at the stove cooking up a hot breakfast, I simply prepare this hearty egg and sausage breakfast casserole on the afternoon of Christmas Eve and refrigerate it overnight. On Christmas morning, the prep is already done, so all I have to do is stick the casserole in the oven. It takes about 50 minutes to bake, and during that time I'm enjoying my morning with my family, not rushing to prepare breakfast.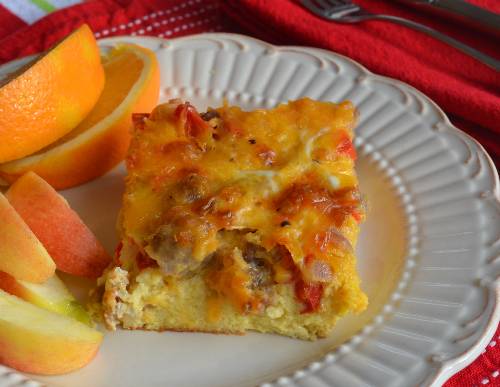 Serve the casserole with fresh fruit and homemade toast and enjoy!
Print
Egg and Sausage Breakfast Casserole
Ingredients
2 tablespoons butter
1 lb breakfast sausage, casings removed
1 green or red bell pepper, chopped
1/2 red onion, chopped
8 slices of bread, cut or torn into small pieces
1 ½ cups shredded sharp cheese
10 large eggs
2 cups 2% milk
¼ teaspoon salt
¼ teaspoon pepper
Instructions
Butter a 9 X 13 baking dish. Set aside.
Melt butter in a large saute pan. Add the sausage, pepper, and onion and cook until the sausage is cooked through and the veggies are softened. Break up the sausage into small pieces while cooking.
Place the bread in the prepared baking dish.
Layer the sausage on top, followed by the cheese.
Whisk the eggs, milk, salt, and pepper together. Pour on top of the sausage and cheese.
Cover and refrigerate overnight.
Next day, preheat oven to 350 degrees.
Bake the casserole for about 50 minutes or until center is set.
Courses Breakfast
Nutrition Facts
Serving Size 8
Amount Per Serving
% Daily Value
* Percent Daily Values are based on a 2,000 calorie diet. Your daily values may be higher or lower depending on your calorie needs.