We all need to start our day with a healthy breakfast. But, sometimes the craziness of mornings might keep us from actually sitting and eating something (especially busy moms and dads!) This is where eMeals can help with their new breakfast plans!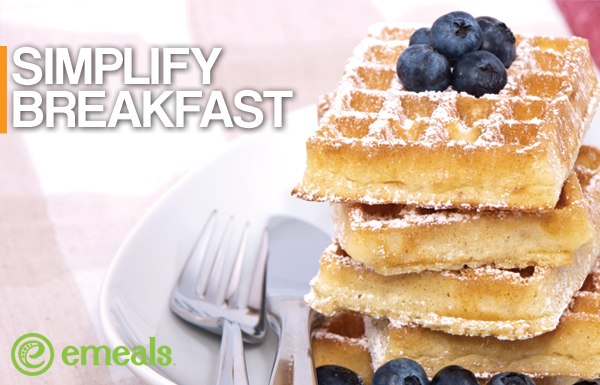 eMeals Breakfast Plans are available as an add-on purchase to any dinner meal plan subscription.  Plus, they are offering a FREE 1 week PDF download of their breakfast meal plan including the necessary grocery list. Their breakfast plans provide fast, healthy, kid-friendly morning recipes including:
Overnight Slow Cooker Apple Pie Oatmeal
Strawberry and Cream Cheese Wafflewiches
Denver Omelet Casserole
Apple Pie Smoothie and more
More about eMeals:
eMeals is a simple system to solve your dinner time dilemma with easy meals based on delicious recipes and a consistent grocery budget.  You'll receive weekly meal plans based on your preferred grocery store sales and specific meal plan type (regular, gluten-free, low fat etc.) with 7 days of easy to follow dinner recipes and a corresponding grocery list.  Dinner meal plans are as low as $5/month, Lunch subscriptions are $4/month with 5 packable weekday lunches that are kid-pleasers and nutritionally balanced each week, and Breakfast subscriptions are available as a $3 per month add-on to any of our 50 dinner meal plans.
With over 50 meal plan options, eMeals has a meal plan that can satisfy any family's tastes!  Save 30% off any add-on breakfast plan with coupon code: BREAKFAST30 at checkout through March 31, 2013.